Michigan State football targeting Division 2 All-American LB from Ferris State
Could the Spartans land a Division 2 national champion?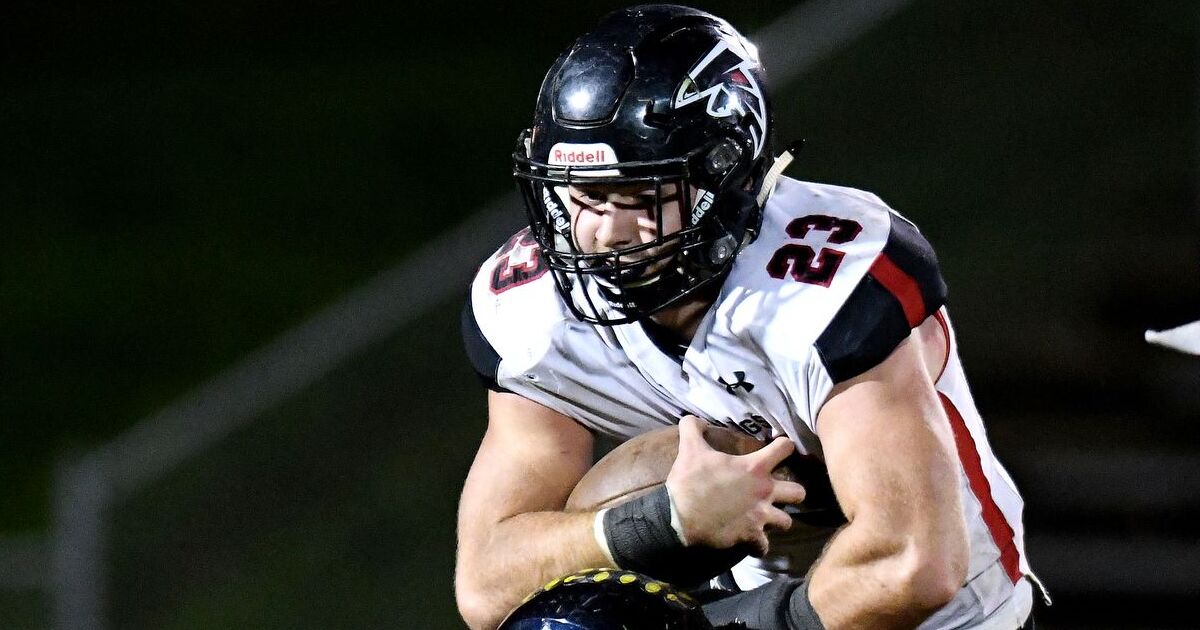 Michigan State football is looking to address the defense in the transfer portal, even looking at some Division 2 talent.
Mel Tucker is not afraid of the transfer portal. Heck, the Michigan State football coach embraces it and knows that it's one of the ways he was able to turn the program around in one year.
So after a disappointing 2022 season, hitting that transfer portal heavily again seems like the right option.
On Friday, Tucker landed his first transfer of the spring in Cincinnati defensive back Armorion Smith who is actually from Detroit. He played in 12 games as a redshirt freshman in 2022 and had 20 tackles and an interception.
Also on Friday, Tucker offered one of the best defensive players from the Division 2 level who also happens to be a local kid. Konnor Near, a St. John's, Mich., native, posted that he had received an offer from Michigan State on Twitter after what appears to be an unofficial visit.
Excited to announce I've received an offer to Michigan State University! @MSU_Football @ScottieHazelton pic.twitter.com/RxwhByKzg6

— Konnor Near (@konnor_near) April 28, 2023
While Michigan State is pretty set at linebacker, it seems, adding some depth there is imperative. He could immediately join that linebacker rotation and maybe even give the defense more schematic options. If he chooses Michigan State, that would give the Spartans a handful of starting-caliber options at the position.
Near is an All-American from the Division 2 level and he just helped Ferris State win its second straight national title in 2022. That kind of proven experience, albeit at a lower level, is something Tucker is looking for. Scottie Hazelton would love to add this piece to the defensive puzzle.
Michigan State had to act fast with the offer to Near as he's been gaining a ton of interest lately from other Power Five programs such as Cincinnati (yes, it's in the Power Five now), Duke, Georgia Tech, West Virginia, Texas Tech, and Washington State.
The Spartans have the advantage of being the hometown team.
Near has two years of eligibility remaining.
Chat GPT deals unforgivable disrespect to Sparty, Michigan State
Chat GPT can't come back from this one.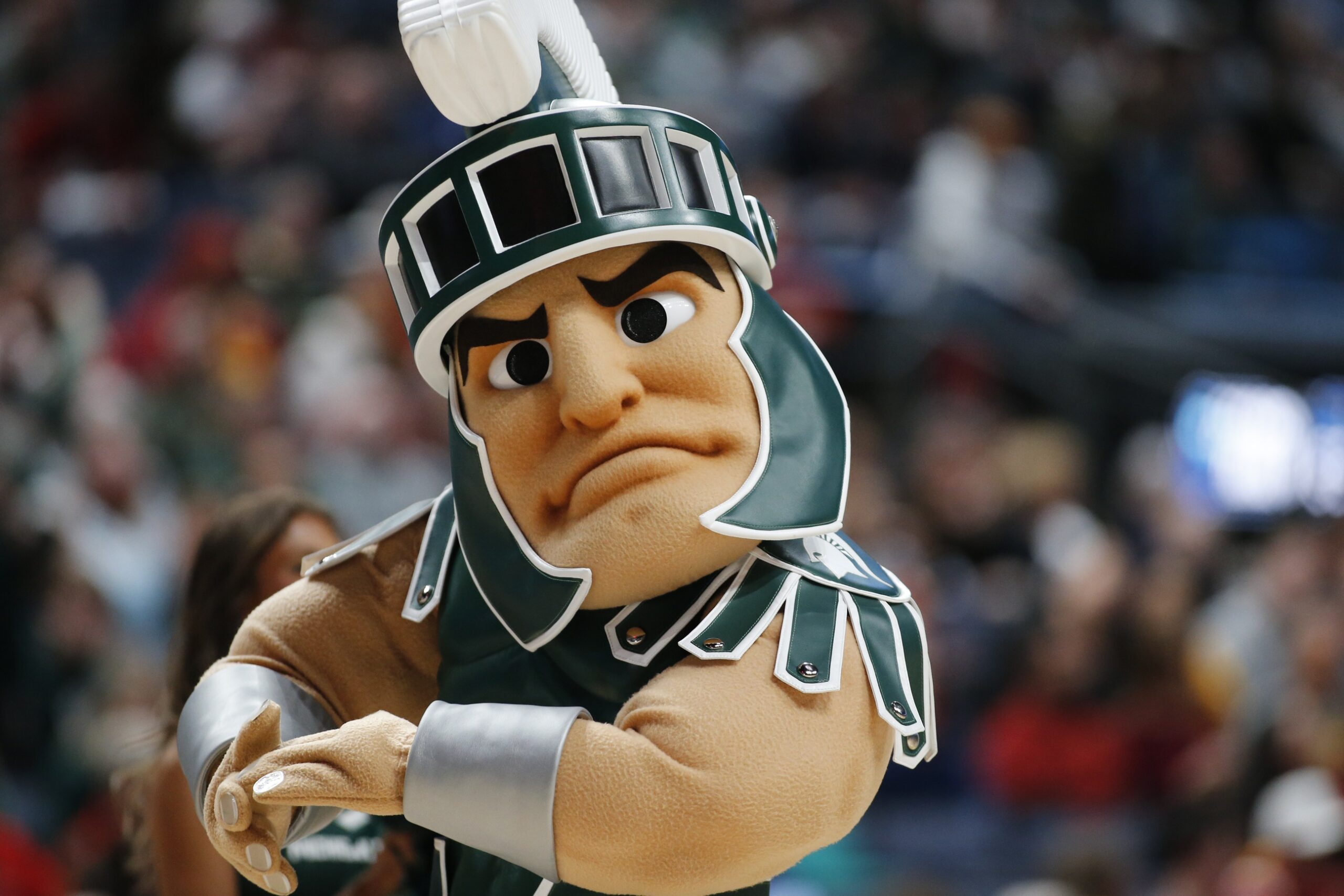 Chat GPT has been creating rankings lists left and right, but the most recent deals disrespect to Michigan State.
We must not let this slide.
Computers are taking over. Artificial Intelligence or better known as AI is infiltrating every arena of the online world right now.
Well this time, AI revealed just how "artificial" its intelligence is. In a Chat GPT generated a list of the 10 best mascots in college sports, famous Michigan State mascot Sparty was egregiously left off the list.
Who's got the top mascot? 👀

These mascots are a cut above the rest, according to ChatGPT 👇 pic.twitter.com/QyE0UMV915

— NCAA March Madness (@MarchMadnessMBB) May 25, 2023
Let's be real here. The only three mascots on this list that deserve to go toe to toe with Sparty are Oregon, Ohio State, and Georgia. The rest of the mascots on this list aren't worthy of carrying Sparty's shield. Sparty has been featured on dozens of tv commercials and is nationally known by real human beings as one of the most recognizable mascots in all of sports. If you put Sparty in a ring with all of these mascots, I guarantee we already know who comes out on top. And it won't be "Wilbur and Wilma."
Formerly known as State Agricultural College of Michigan, the school integrated college sports in the 1880s. True to its agricultural roots, the school was known as the "Aggies." In 1925, the school grew and started to expand beyond agriculture so the school began the process of looking for a new mascot. After a contest on campus that accumulated suggestions for a new mascot, the school landed on the Spartan that was submitted by former Aggie athlete Perry J. Fremont.
We're two years away from the centennial celebration of the Spartan that represents Michigan State. To disrespect a character with this type of history is unacceptable.
While the computers continue to try to take over the world, this is a great reminder that they still have a long way to go. Michigan State University and Sparty won't stand by and take unmerited disrespect from AI or anyone else.
Humanity in the midst of tragedy and a James Harden promise fulfilled
James Harden is awesome for this.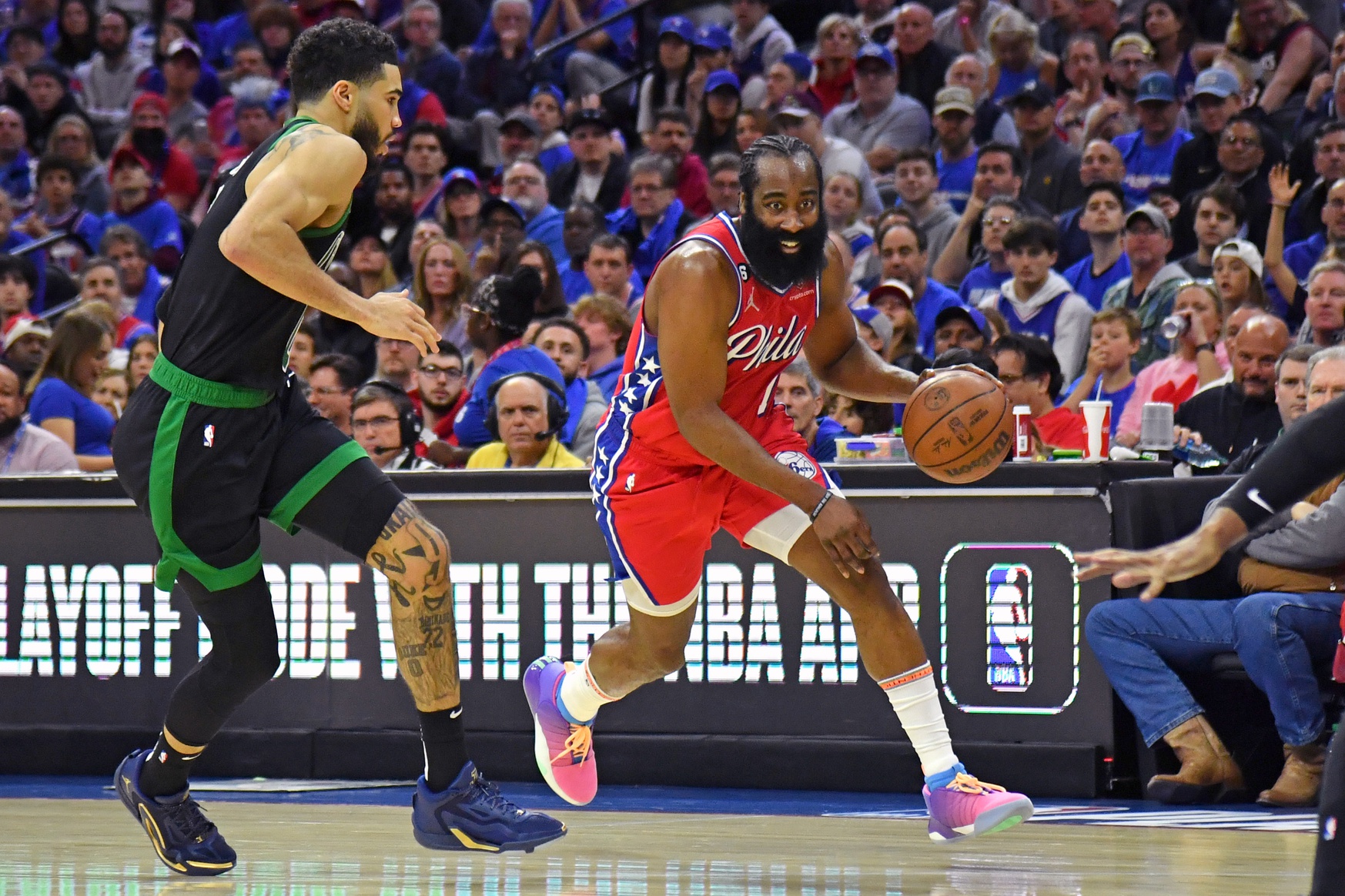 In the midst of a tragedy that left Michigan State student John Hao paralyzed, Sixers star James Harden stepped up.
It feels like just yesterday the Michigan State campus was entrenched in the midst of an all-too-common tragedy. Another mass shooting event. This time, on its own campus.
February 13, 2023, was a day of pain, grief, and heartbreak for the entire university but especially the families of the victims. The events on campus that cold, dark night claimed the lives of three students (Arielle Anderson, Brian Fraser, Alexandria Verner) and injured five others.
In the coming days, the Michigan State family did what Spartans do. They rallied together and supported each other. Within the next couple of weeks, each of the five additional victims that were hospitalized would be released.
This story put Michigan State at the center of the national media. As more information came out regarding the victims and their identities, support from around the world began to pour in. The light of humanity shines brightest in the darkest of times.
On April 4, the last of the five hospitalized victims would be released, according to FOX 2 Detroit. While they survived, some sustained serious injuries, such as John Hao.
Hao's injuries left him paralyzed from the chest down. Support for Hao began coming in through a GoFundMe page. This page told us more about who Hao is, including the fact that he's a huge James Harden fan.
Malika Andrews of ESPN reported that James Harden read this information himself and got in contact with Hao.
Last week, 20-year-old John Hao's life was changed forever. He was one of the students shot at Michigan State University and was left paralyzed from the waist down. Hao is a huge fan of James Harden, and when Harden heard Hao's story, he stepped in: pic.twitter.com/Htm2RXRdQ2

— Malika Andrews (@malika_andrews) February 23, 2023
James Harden would go on to send in sneakers including some that were game worn. He contributed to Hao's GoFundMe page. He also spent time speaking with Hao on FaceTime. Harden would go on to give Hao his phone number. Harden said he promised Hao when he was well enough he could attend a Philadelphia 76ers game as his guest.
This Sunday, Harden's promise will become a reality. The 76ers and Harden are entrenched in a tough playoff series verse the Boston Celtics and Hao will be present himself to see his favorite player take the court. The playoff matchup takes place at 3:30 p.m. ET on ESPN. You'll likely see a story on Hao's journey in the pregame lead-up.
The events of Feb. 13 were some of the hardest in Michigan State's history. However, seeing Hao present Sunday will be a reminder of the beauty of selfless humanity.
Why I fell in love with Michigan State
My Spartan fandom started thanks to one special person.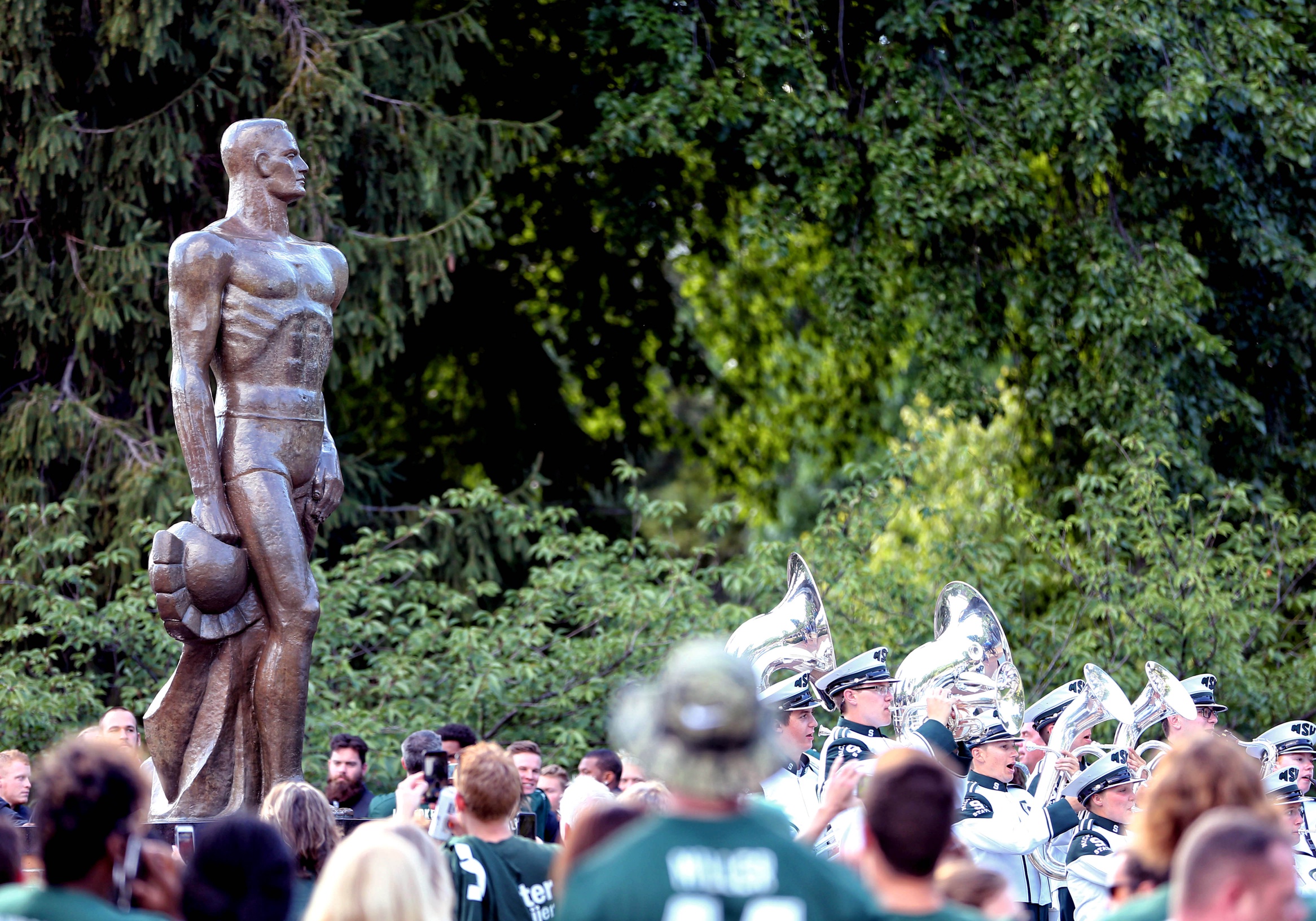 I've long been a Michigan State fan and there are many reason for that. Why did I choose to invest my fandom in MSU?
For most of my 33 years on this earth, few things have appealed to me in a way that sports do. It's an escape. It's a passion. At times, it consumes more of my free time than I may like, but for good reasons.
I grew up with my first love being hockey. I am a diehard Red Wings fan to my core and of course the rest of Detroit sports followed. When it came to college sports, I've been a Spartan for as long as I can remember. I've often been asked, why Michigan State? It's been a question that's kind of resonated with me over the past weekend and I wanted to take a deeper dive into. Hopefully you guys are interested too and I haven't lost everyone already.
You've heard it talked about a ton. Michigan State has one of the biggest living alumni bases in the country. Those of you who know me personally know that I am not one of them. Some people who have read some of my work for Spartan Shadows assumed I was. I didn't go to MSU.
After high school, I thought I wanted to be a high school teacher. I applied to Michigan State certainly, but chose to attend Central Michigan. Partially because they were offering me some scholarship money and partially cause their teaching program is top notch. Also, my best friend was going to go there as well and I wanted to join him. But still, even while living in Mount Pleasant, my allegiances and heart lied in East Lansing.
Like I said earlier, my love for green and white started at an early age. Neither of my parents attended MSU so that was not where I inherited it. My earliest Spartan related memories came from conversations with my Uncle Dave who lived in Lansing or with my cousins Nikki and Troy who attended MSU when I was little. But I think indirectly, the most influential Spartan figure in my family was my Uncle Fran.
My mom's side of the family is rather big. In total there were 13 total kids in the LaFave clan. My uncle Fran was the oldest. He passed away last weekend at the age of 84 and I think that's what started this reminiscing. He was a diehard Spartan fan.
After high school, he joined the Marine Corps but after being discharged, he went to MSU for his undergrad studies where he graduated in 1963. I didn't get to see him a ton throughout my life because he lived in the Minneapolis area and I'm from Michigan. Whenever he was home, we would discuss our Spartans but that wasn't more than once a year or so. His influence on his younger brother Dave and then maybe indirectly my cousins were a big reason I became enamored with Green and White.
When I say he was a big a Spartan fan, I mean he was a big Spartan fan. Especially MSU basketball. He wouldn't miss a game on TV when he could catch it. Even when the Spartans would travel to Minneapolis, he would try to get out and see them.
A few years ago, I got a message from my cousin Aimee (Fran's daughter) with the picture below.
I was so happy for him. A little jealous of course, but happy. Getting to meet Tom Izzo was certainly a thrill for him I know. As Uncle Fran was nearing the end of his life, the love for MSU did not waver. His birthday was just over a month ago. His son and daughter were visiting and they had a Spartan themed party for that. After he passed away, he was laid to rest in his favorite Spartan t-shirt. That shows the level of fandom we've shared right there.
He always agreed, East Lansing is a special place. I think the first memory I have of campus was actually a wedding I was in as a young kid when my cousin Nikki got married at the botanical gardens. The place is amazing. From there childhood was filled with memories of her recalling her time in Hubbard Hall, talking with both of my cousins about football results, and of course getting to rub it in our other family members' faces when we beat that school down the road.
Even after that, traveling to the Breslin Center for basketball games, Spartan Stadium for football games, and then while in college visiting some of my best friends and touring some of East Lansing's more finer nightlife establishments. Traveling to Final Fours, watching games with friends, all of those are great memories that hold a special place in my mind.
Campus is gorgeous. There is no other way to put it. It's almost like it was made in a movie. Not many people understand it until they get to spend time there. It really is something else.
My family would agree. Overall I think that's the key ingredient to what makes MSU special. While not all of my family shares the same love for MSU as I do, there are a few that do.
Over the past week I have been reflecting a lot on them as one does when losing someone. I'm forever thankful for all of them for many reasons, but getting my Spartan pride is definitely near the top. Now that I'm a dad, it's also something I look forward to sharing with my son, too. He has been on campus but hasn't quite had any experiences yet. He's seven years old and hasn't been super into sports yet but hockey and basketball are coming around. He is constantly asking when the Spartans play next and man, does that make me happy. Keeping Spartan traditions in the family is something I've always dreamt of doing.
Treating its athletes like a family is part of the secret sauce that the basketball and football programs have preached over my lifetime. Many of the past players point to that as the reason they committed in the first place. It's also the reason so many come back later on in life. Family traditions run deep in East Lansing. They also seem to run deep for the LaFave side of my family. I can't thank Uncle Fran enough for potentially starting something bigger than he'd ever realize.
I appreciate this school so much. Regardless of how the teams are doing, the buzz on campus is so unique on game day. It's something I can only hope I get to experience a lot more in life. Hopefully this fall, I'll get to share some of those memories with my son and maybe some of you all. Thanks for letting me explain a little part of myself to you all. I appreciate every one of you. Go Green.