3 things Michigan State football must do to have chance at Michigan upset
MSU needs to play a perfect game.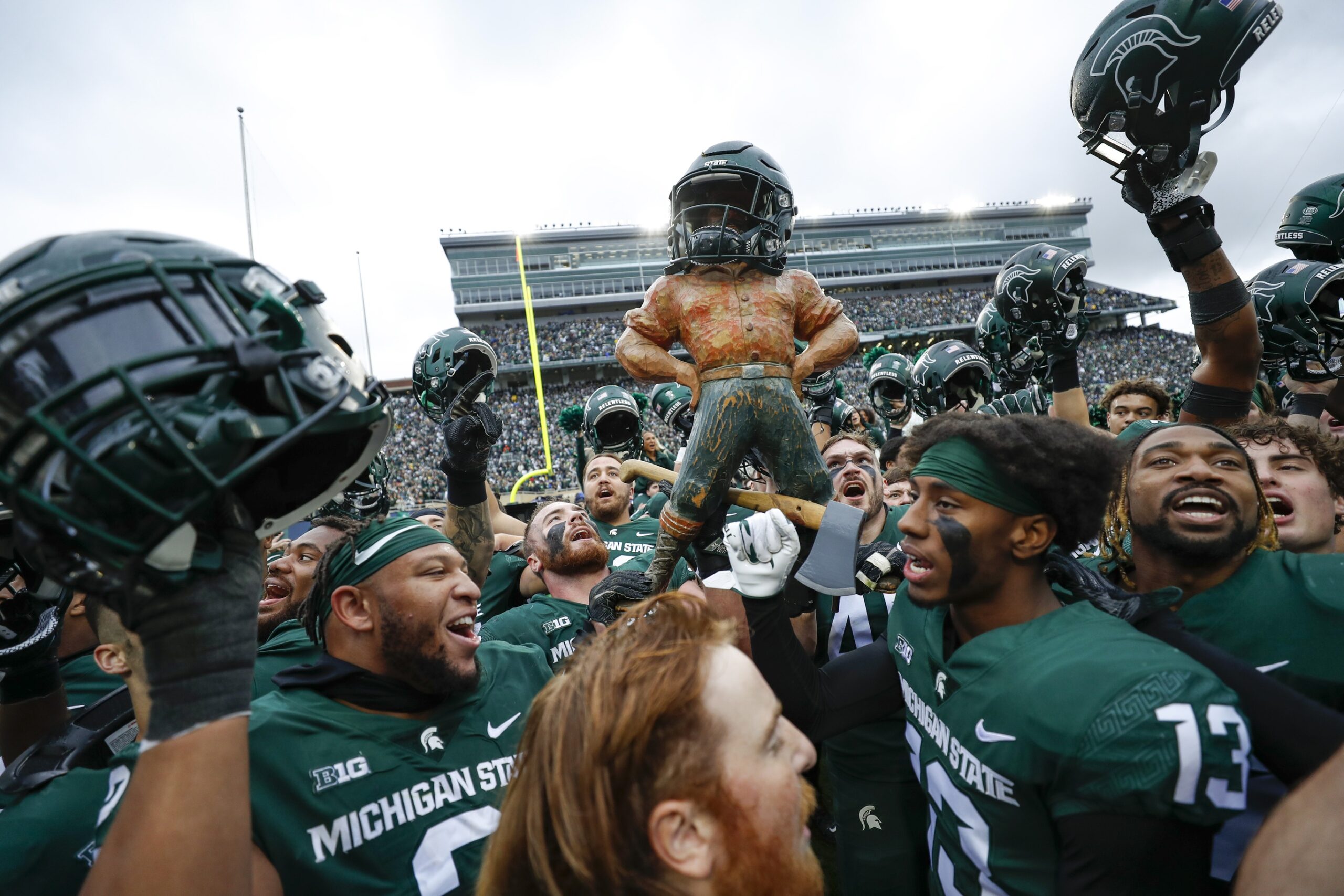 No one is giving Michigan State football a chance to win this weekend, but here's what the Spartans must do to have a shot.
The big game is finally here. Michigan State football welcomes the Wolverines to town on Saturday night at 7:30 p.m. ET in the latest edition of this in-state rivalry. As you all know, this matchup heavily favors Michigan this season. They are undefeated and No. 2 in the country while Michigan State is riding a four-game losing streak. To put it lightly, a lot has to go our way if we want to win this game.
Here are three things I think Michigan State must do if it wants a chance to upset the Wolverines.
1. Win the turnover battle by two
Turnover margin is always a key thing to watch in any game. Typically, the team that wins the turnover battle has a great chance to win the game.
However, I don't think winning this battle by one will be good enough. This Michigan team is so dominant that they can still win games while losing the turnover battle. That's why I think Michigan State needs to be +2 minimum in the turnover battle to even have a chance to win.
Thankfully for Michigan State, Michigan occasionally has turnover problems. I always think back to the 2021 game when JJ McCarthy fumbled to set up Kenneth Walker III's game-winning touchdown. Or when Cade McNamara threw the game-sealing interception to Charles Brantley moments later. Michigan has even had turnover issues this year including three interceptions from McCarthy against Bowling Green. Michigan doesn't turn the ball over a lot every game, but we have to be ready to take advantage of any opportunity they give us.
2. Start fast
This might be obvious, but if we want to win this game we have to start fast. If we find ourselves down 14-0 early, the game will be over.
The best indicator for starting fast is how we do in our first series. Can Michigan State score a touchdown their first time on offense? Can we force Michigan into a three-and-out their first time on the field? If we can accomplish both of these things then we'll have a chance to still be in this game late.
Now imagine what the crowd will sound like if we get off to this fast start. Spartan Nation will already be extremely loud when the game starts, but if we take it to Michigan early there's no telling how loud the crowd will be. The longer we can keep the crowd into the game, the better for Michigan State.
3. Dominate the run game
This one might be the most difficult to accomplish of them all. Michigan's defense is currently holding its opponents to 93 rush yards per game. If we fail to eclipse that mark on Saturday, we likely don't stand a chance.
Running the ball effectively will be massive for our chances for two reasons.
First, a solid run game opens up the passing game. If we are running the ball efficiently, Michigan will have to honor that and stack the box which makes it easier for Katin Houser and the wide receivers to work in the passing game.
Second, an effective run game keeps Michigan's offense off the field. Shortening the game is no doubt in our best interest on Saturday night. If we can run the ball a lot and sustain long drives, that will speed the game up a lot. Doing so keeps Michigan's offense off the field, which is key because I don't love our chances at stopping them consistently. So an effective run game is crucial tomorrow night.
Unfortunately for Michigan State football, doing all three of these things may still not result in a victory. However, if we even want a chance to win, we must do these three things and hope we get a couple of lucky bounces along the way.