Michigan State Basketball: The great, good, bad, ugly from lifeless loss to Rutgers
Yes, there was actually good and great in this loss.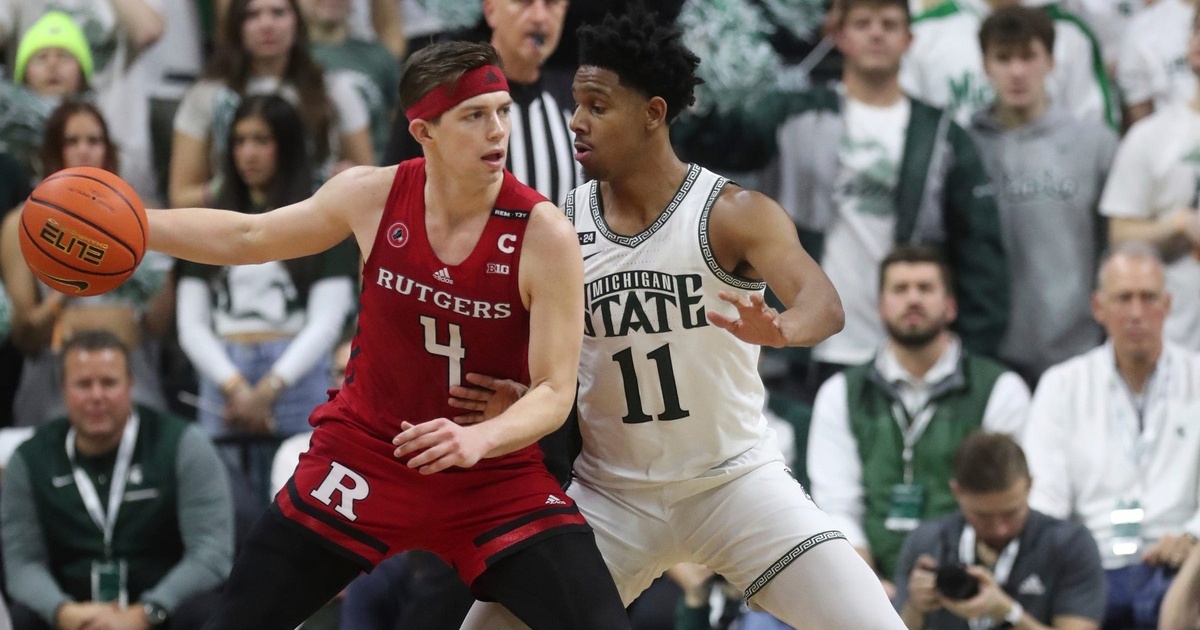 Here are the great, good, bad, and ugly from the extremely disappointing Michigan State basketball loss Saturday afternoon.
Playing at one of the most famous venues in the country, Michigan State basketball fell flat against Rutgers, dropping their second game in a row. Saturday's matchup proved to be quite the rock fight as neither team could get any offensive momentum. While this was expected based on the above average defense from both the Spartans and Scarlet Knights this season, the intense lack of offense was still somewhat shocking.
With just over nine minutes remaining in the first half, Rutgers held a 9-8 point lead over Michigan State. Over the last eight minutes, however, Michigan State was able to grind out some good offensive looks and would head into halftime with a 25-19 lead.
Unfortunately for the Spartans, their offensive struggles continued into the second half while Rutgers began hitting their stride. Fueled by both a 7-0 run as well as a 9-0 run, the Scarlet Knights were able to overcome their poor shooting from both the free throw line and the field to put Michigan State away. MSU finished the day shooting 34 percent from the field, with just 19 percent from deep.
Up and down the roster, it appeared as if Michigan State basketball was unfocused and disengaged offensively. Even with having the week off, Michigan State did not come ready to play.
Now sitting 4.5 games behind in the Big Ten, MSU will have to quickly pick up the pieces before welcoming Maryland on Tuesday.
Here are the great, good, bad and ugly from the extremely disappointing loss Saturday afternoon.
Great: Rebounding
After a lifeless performance such as the one the Spartans had Saturday afternoon, it can be difficult to identify an aspect in which MSU did well. In this case, however, Michigan State did a fantastic job rebounding and clearing the glass against Rutgers. Going into the matchup, the Scarlet Knights were outrebounding opponents by 4.8 rebounds per game, while MSU sat more than a rebound less per game with 3.4 boards.
To say the Spartans have lost their identity this season when it comes to rebounds would be fair. Against Rutgers, however, Michigan State bested Rutgers' 34 rebounds by 10 more boards, finishing with 44. Malik Hall took it upon himself to grab every rebound available, finishing the day with a whopping 13 boards. MSU's next closest were Joey Hauser and Mady Sissoko with five each. In such a slow paced game, controlling the glass will often lead to a victory.
Unfortunately, even with their dominance on the boards, Michigan State still fell flat. Had they not put forth the effort rebounding, the score would have been even more lopsided.
Good: Defense
As previously mentioned, it was known this would be a defensive battle. Rutgers currently sits with the best defense in the Big Ten, allowing just 59 points per game. With that being said, it was MSU who set the tone defensively when they met in January. When the two played at the Breslin, the Spartans held Rutgers to just 34 percent from the field and 11 percent from deep, eventually getting the victory. For Saturday's matchup, Michigan State did more of the same, defensively.
During the first half, Rutgers was held to under 20 points. Keeping the Scarlet Knights leading scorers in check, Michigan State was able to overcome their offensive inefficiencies to grab a first half lead. MSU's defense began to slip in the second half, with Rutgers' Paul Mulcahy and Cliff Omoruyi eventually finding their groove. With that being said, the Spartans were still able to limit the Knights to 37 percent from the field and just 18 percent from three.
In a matchup in which MSU isn't so lackluster offensively, their defensive performance would lead to a victory.
Bad: Untimely Turnovers
When looking at the final stats from Michigan State's game at the Garden, MSU finished with 14 turnovers. A.J. Hoggard finished the game tied for his season high with five turnovers, while Malik Hall had three. Fourteen turnovers is more than their 11.2 turnovers per game, but what was more impactful was the timing of the turnovers.
Half of their team turnovers came in the second half. When MSU was up by three with just over eight minutes remaining, they had back to back turnovers from Hall and then Hoggard. Using these wasted possessions and another turnover by Hauser at the 5:30 mark, the Scarlet Knights launched a 9-0 run and never looked back.
You have to give credit to the number one defense in the Big Ten for forcing 14 turnovers in one game. If you are the Spartans, you cannot give the ball away so often, so late in the game, especially when points are so hard to come by.
Ugly: Offensive Production
To say the Spartan's offensive production on Saturday afternoon was ugly would be an understatement. Other than 12 points from Tyson Walker and 10 points from Hauser, there were no other Spartans scoring in double figures. From the field, MSU averages over 44 percent on the season to go along with almost 37 percent from 3-point range.
At Madison Square Garden on Saturday, Michigan State was shooting just 34% from the field, and 19 percent from deep. That's a far cry from average and what should be considered acceptable.
To go along with the poor shooting and untimely turnovers as already discussed, there was an apparent lack of urgency and no one available to take over when a bucket was needed. There were stretches of game in which Michigan State's offensive production was non-existent and yet, there was no superstar to take over and pull the Spartans out of the slump. This isn't a new development for Michigan State basketball, but on Saturday, fans saw first hand how not having that guy can easily be a team's downfall.