Michigan State basketball: 3 key factors and a prediction vs. Maryland
Michigan State needs a bounce-back performance.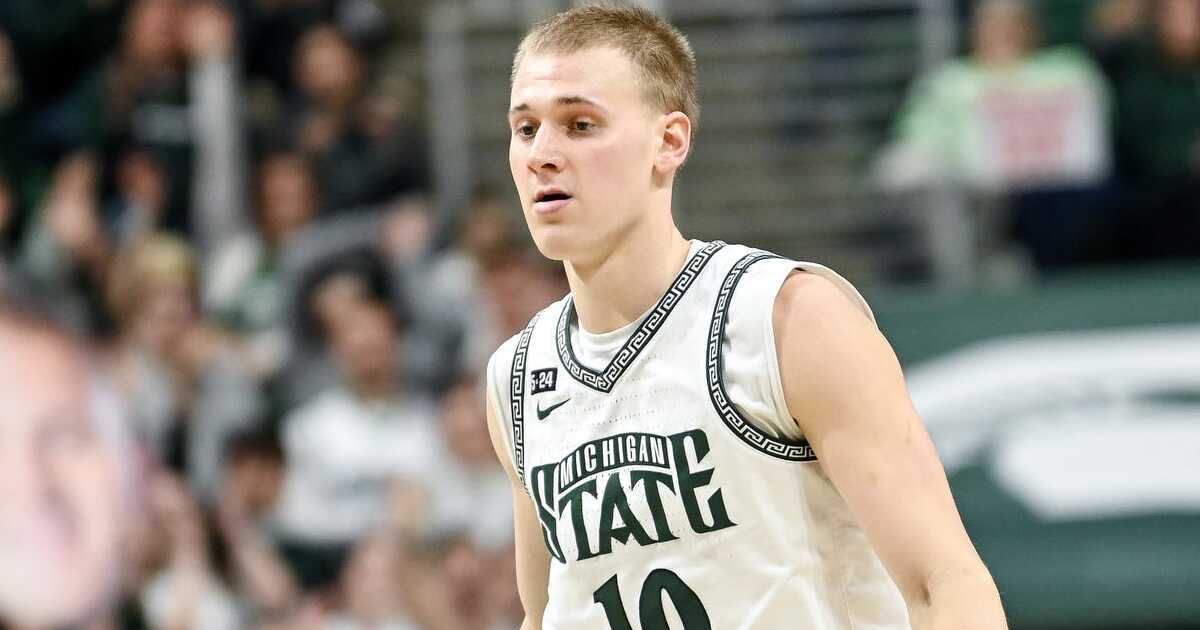 Michigan State basketball hosts a red-hot Maryland team on Tuesday night. What can we expect from the matchup?
Michigan State basketball will be eager to get back on the court after an ugly loss against Rutgers on Saturday. They'll host first year coach Kevin Willard and the Maryland Terrapins in East Lansing on Tuesday.
Let's dive into some keys to the matchup.
1. Confidence
Maryland and Michigan State come into this matchup feeling completely different about the state of their seasons.
For Maryland, it's been an enjoyable ride for the last two weeks. The Terrapins have won four games in a row, and five of their last six. Their only loss came by three points at Mackey Arena. Maryland has won their last four games by double digits.
Michigan State, meanwhile, has lost five of its last seven, and three of their last four. After a few early victories in conference play, the Spartans looked like potential Big Ten championship contenders. Now, Michigan State sits at 6-6 and is essentially out of contention for the conference title. This is the only meeting between Maryland and Michigan State this season.
Both teams project to be fighting for a double bye in the conference tournament, meaning this singular meaning carries significant weight. It will be interesting to see if confidence is a factor here for either team. Maryland is playing with a lot of it, and Michigan State is not. Both of these teams should be in the NCAA tournament field, but neither is particularly safe. Michigan State is much closer to becoming a bubble team given their recent slide, but Maryland's non-conference resume has not left them with a ton of room for error.
It's worth noting that this is a very experienced Maryland team. The Terrapins are led by their three seniors: Jahmir Young, Donta Scott, and Hakim Hart. Julian Reese is the only major contributor that is not an upperclassman.
Michigan State is coming off their worst game of the season offensively. If there is a mental edge to be had here, logic would imply that it will be with the more experienced team that is playing with more confidence.
2. Another tough watch
If you did not enjoy Saturday's rock fight between Michigan State and Rutgers, you may want to look for something else to watch on Tuesday.
This is another game that projects to be in the low to mid 60s with two below average offenses. Maryland comes into the game ranked eighth in the Big Ten in offensive efficiency, but 13th in effective field goal percentage, per KenPom. Michigan State comes in with the 11th ranked offense in the conference.
Both teams sport a top five defensive ranking in league play.
Similar to Rutgers, Maryland does not shoot the three well at all. Ian Martinez and Jahari Long are the only two Terrapins shooting above 31 percent from deep this season. To make matters worse for Maryland, that has only come on 61 attempts. Instead, the Terrapins rely on offensive rebounding, high percentage looks, and transition opportunities to score.
For Tom Izzo's group, it's hard to think of a worse offensive effort this season than the one they gave Saturday at Rutgers. The key to the offense remains A.J. Hoggard. When he is at his best, he's a problem for opponents with his strength in the paint. He can get to his spots and score, or find open shots for his teammates. The conference has caught up to him a little bit as of late, and if MSU wants to find more rhythm on offense, they're going to need to get Hoggard going. When Hoggard isn't going, the Spartans become very reliant on three-point shooting. When those aren't falling (4-for-21 on Saturday), and Hoggard is held in check, the Spartans go long stretches without scoring.
3. Fundamentals
Expanding off key factor No. 2, this has the potential to become an eyesore of offensive basketball. There is a statistic on KenPom titled "non-steal turnover percentage." Because steals are the most common form of forced turnovers, it essentially measures how much a team gives the ball away via unforced turnovers.
Maryland currently sits at the polar opposite end of the spectrum on offensive and defensive non-forced turnovers. Nobody in the Big Ten has given the ball away more, and nobody has committed more unforced turnovers against the Terrapins. When Michigan State struggles, turnovers tend to be an issue. The metrics say that Maryland has a knack for generating turnovers of the non-steal variety. But they also give plenty away on their own. Taking care of the basketball should be a point of emphasis for both coaches on Tuesday.
Another fundamental to keep an eye on is free throw shooting. With two offenses that can go through droughts, points at the line will be crucial. Michigan State currently ranks 12th offensively and 14th defensively in the conference in free throw attempts per field goal attempt. This implies that MSU is not getting to the free throw line and is allowing its opponents to end a large number of possessions by shooting free throws. Maryland is in the top five on offense in getting to the line but ranks 12th defensively. This would indicate that we could be in for a lot of free throws at Breslin Center.
Both teams shoot very well, as Maryland and Michigan State rank second and third, respectively, in the Big Ten in free throw percentage. It may sound cliché, but the team that takes care of the basketball, can play defense without fouling, and can make a high percentage of free throws is going to win the game.
Prediction
Michigan State currently sits as a 3.5-point home favorite with a total of 131.5. Considering where these two teams are at right now, this line is a little smelly. Maryland has just two victories on the road this season. They beat Louisville in November and Minnesota this past Saturday.
Not very impressive.
While the Terps have won five of their past six games, the only NCAA tournament team in that group of teams that they've beaten is Indiana – at home. Michigan State on the other hand, has lost all five of their previous seven to teams that are almost assuredly in the field of 68. While Maryland has been much better lately, it's still a flawed team that I can't see winning five in a row in this year's Big Ten.
Conversely, I don't think Michigan State is as bad as it played against Purdue and Rutgers. I think the difference here is 3-point shooting. I think Michigan State sees some positive shooting regression in their return home and I think the disparity in made threes is too much to overcome for Maryland. The Terps will need to rely on made free throws to close that gap. After Rutgers shot 34 free throws on Saturday, I'd have to imagine playing defense without fouling was a sticking point in practice for Tom Izzo.
I think MSU gets the job done, but I wouldn't mess around with the points.
Prediction: Maryland 64, Michigan State 68