Michigan State basketball: 3 key factors and a prediction vs. Maryland
Michigan State needs a bounce-back performance.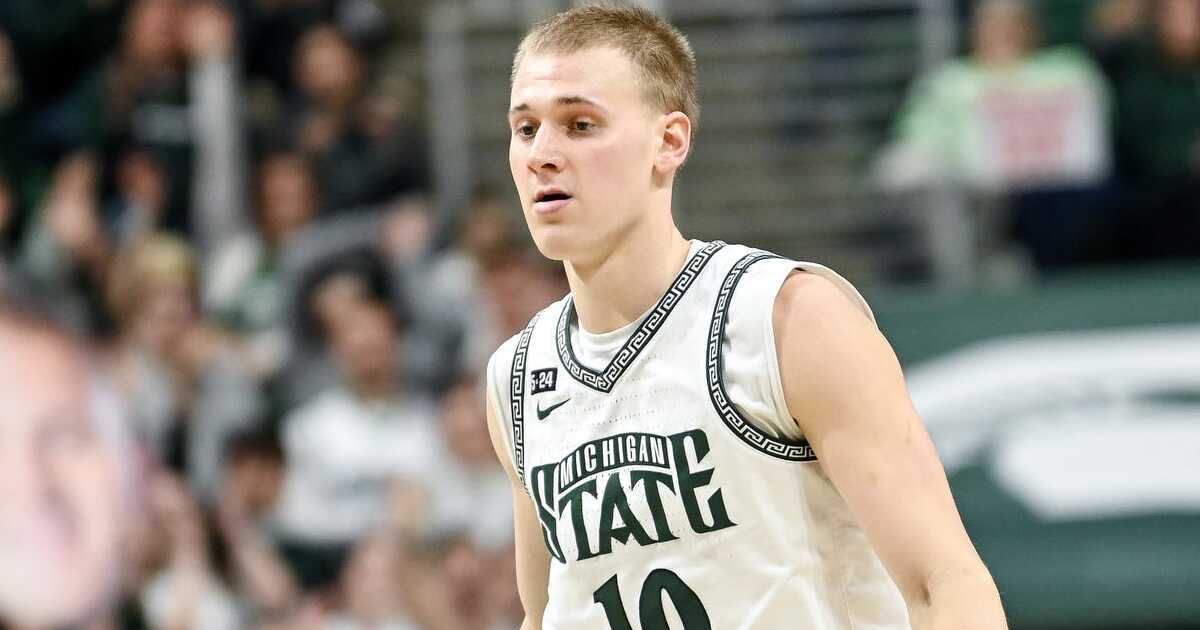 Michigan State basketball hosts a red-hot Maryland team on Tuesday night. What can we expect from the matchup?
Michigan State basketball will be eager to get back on the court after an ugly loss against Rutgers on Saturday. They'll host first year coach Kevin Willard and the Maryland Terrapins in East Lansing on Tuesday.
Let's dive into some keys to the matchup.
1. Confidence
Maryland and Michigan State come into this matchup feeling completely different about the state of their seasons.
For Maryland, it's been an enjoyable ride for the last two weeks. The Terrapins have won four games in a row, and five of their last six. Their only loss came by three points at Mackey Arena. Maryland has won their last four games by double digits.
Michigan State, meanwhile, has lost five of its last seven, and three of their last four. After a few early victories in conference play, the Spartans looked like potential Big Ten championship contenders. Now, Michigan State sits at 6-6 and is essentially out of contention for the conference title. This is the only meeting between Maryland and Michigan State this season.
Both teams project to be fighting for a double bye in the conference tournament, meaning this singular meaning carries significant weight. It will be interesting to see if confidence is a factor here for either team. Maryland is playing with a lot of it, and Michigan State is not. Both of these teams should be in the NCAA tournament field, but neither is particularly safe. Michigan State is much closer to becoming a bubble team given their recent slide, but Maryland's non-conference resume has not left them with a ton of room for error.
It's worth noting that this is a very experienced Maryland team. The Terrapins are led by their three seniors: Jahmir Young, Donta Scott, and Hakim Hart. Julian Reese is the only major contributor that is not an upperclassman.
Michigan State is coming off their worst game of the season offensively. If there is a mental edge to be had here, logic would imply that it will be with the more experienced team that is playing with more confidence.
2. Another tough watch
If you did not enjoy Saturday's rock fight between Michigan State and Rutgers, you may want to look for something else to watch on Tuesday.
This is another game that projects to be in the low to mid 60s with two below average offenses. Maryland comes into the game ranked eighth in the Big Ten in offensive efficiency, but 13th in effective field goal percentage, per KenPom. Michigan State comes in with the 11th ranked offense in the conference.
Both teams sport a top five defensive ranking in league play.
Similar to Rutgers, Maryland does not shoot the three well at all. Ian Martinez and Jahari Long are the only two Terrapins shooting above 31 percent from deep this season. To make matters worse for Maryland, that has only come on 61 attempts. Instead, the Terrapins rely on offensive rebounding, high percentage looks, and transition opportunities to score.
For Tom Izzo's group, it's hard to think of a worse offensive effort this season than the one they gave Saturday at Rutgers. The key to the offense remains A.J. Hoggard. When he is at his best, he's a problem for opponents with his strength in the paint. He can get to his spots and score, or find open shots for his teammates. The conference has caught up to him a little bit as of late, and if MSU wants to find more rhythm on offense, they're going to need to get Hoggard going. When Hoggard isn't going, the Spartans become very reliant on three-point shooting. When those aren't falling (4-for-21 on Saturday), and Hoggard is held in check, the Spartans go long stretches without scoring.
3. Fundamentals
Expanding off key factor No. 2, this has the potential to become an eyesore of offensive basketball. There is a statistic on KenPom titled "non-steal turnover percentage." Because steals are the most common form of forced turnovers, it essentially measures how much a team gives the ball away via unforced turnovers.
Maryland currently sits at the polar opposite end of the spectrum on offensive and defensive non-forced turnovers. Nobody in the Big Ten has given the ball away more, and nobody has committed more unforced turnovers against the Terrapins. When Michigan State struggles, turnovers tend to be an issue. The metrics say that Maryland has a knack for generating turnovers of the non-steal variety. But they also give plenty away on their own. Taking care of the basketball should be a point of emphasis for both coaches on Tuesday.
Another fundamental to keep an eye on is free throw shooting. With two offenses that can go through droughts, points at the line will be crucial. Michigan State currently ranks 12th offensively and 14th defensively in the conference in free throw attempts per field goal attempt. This implies that MSU is not getting to the free throw line and is allowing its opponents to end a large number of possessions by shooting free throws. Maryland is in the top five on offense in getting to the line but ranks 12th defensively. This would indicate that we could be in for a lot of free throws at Breslin Center.
Both teams shoot very well, as Maryland and Michigan State rank second and third, respectively, in the Big Ten in free throw percentage. It may sound cliché, but the team that takes care of the basketball, can play defense without fouling, and can make a high percentage of free throws is going to win the game.
Prediction
Michigan State currently sits as a 3.5-point home favorite with a total of 131.5. Considering where these two teams are at right now, this line is a little smelly. Maryland has just two victories on the road this season. They beat Louisville in November and Minnesota this past Saturday.
Not very impressive.
While the Terps have won five of their past six games, the only NCAA tournament team in that group of teams that they've beaten is Indiana – at home. Michigan State on the other hand, has lost all five of their previous seven to teams that are almost assuredly in the field of 68. While Maryland has been much better lately, it's still a flawed team that I can't see winning five in a row in this year's Big Ten.
Conversely, I don't think Michigan State is as bad as it played against Purdue and Rutgers. I think the difference here is 3-point shooting. I think Michigan State sees some positive shooting regression in their return home and I think the disparity in made threes is too much to overcome for Maryland. The Terps will need to rely on made free throws to close that gap. After Rutgers shot 34 free throws on Saturday, I'd have to imagine playing defense without fouling was a sticking point in practice for Tom Izzo.
I think MSU gets the job done, but I wouldn't mess around with the points.
Prediction: Maryland 64, Michigan State 68
Michigan State basketball: Way-too-early projected starting 5 for 2023-24
Next year's team could be special.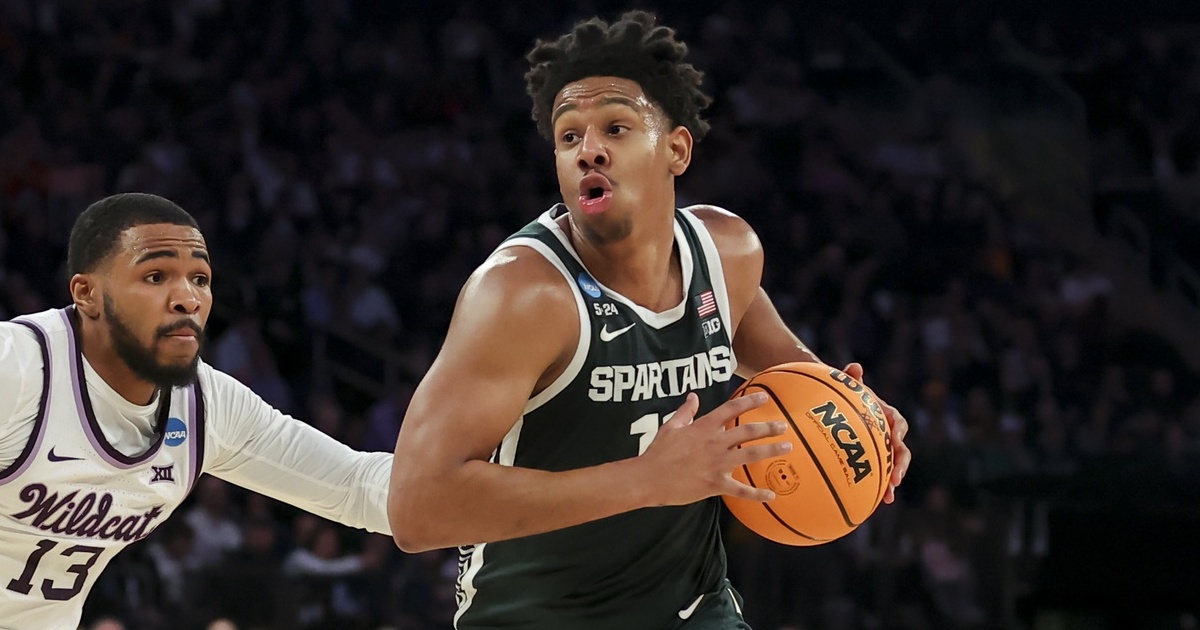 Michigan State basketball has officially entered the offseason and now it's time to predict what next year looks like.
Markquis Nowell will go down in Michigan State basketball history as one of those forbidden names. We will no longer be mentioning the Kansas State guard as he's now in the same group as Giddy Potts, Boo Buie, Jabari Parker, and Shabazz Napier. We're just throwing those names out for good.
Now that we got that out of the way, we can move forward and look ahead to next season.
And next season could be special. Michigan State brings back some key players such as Jaden Akins, AJ Hoggard, Mady Sissoko, Jaxon Kohler, Carson Cooper, Tre Holloman, and potentially Pierre Brooks. However, decisions have yet to be officially made for Tyson Walker, Malik Hall, and Joey Hauser, but an elite recruiting class is coming in.
In fact, the Spartans are bringing in one of the best recruiting classes in program history, led by five-star big man Xavier Booker, five-star point guard Jeremy Fears, four-star super-athlete Coen Carr, and four-star athletic sharpshooting wing Gehrig Normand.
The lineup next year should be athletic and the bench will be deep.
But what will the starting five look like, assuming that Hauser is gone? Here's my best guess:
PG: AJ Hoggard, SR
G: Tyson Walker, SR
G: Jaden Akins, JR
F: Xavier Booker, FR
C: Mady Sissoko, SR
AJ Hoggard will be back for his senior year to lead the team at the point and he might just be the Big Ten's best at the position. He showed against Kansas State that he can take over a game offensively and I'm looking forward to seeing him take another step in 2023-24.
For my bold prediction: I think we see Walker return. The way the season ended left a sour taste in his mouth and he became one of the best players in the Big Ten. If he gets the green light next year, he could be the Spartans' go-to- scorer and potentially a Big Ten Player of the Year frontrunner.
Akins' return is going to be huge for this team as well. If Walker were to leave, he'd assume the role of go-to scorer and I know he'd flourish. But he did play well in a No. 3 option role this season and he's going to excel as the second option next season. He is the starting five's top NBA prospect outside of Xavier Booker at the four.
Speaking of Booker, I see him sliding in as the starting power forward much like Jaren Jackson Jr. did as a true freshman. He's a long, athletic big who can rebound and score in the post and that's just what was missing this year. While I do think Hall returns and could play the four in a small-ball lineup, I think Tom Izzo brings him off the bench and Booker starts.
Lastly, Mady Sissoko grew a ton this season and I don't think he's done getting better. He had his ups and downs and showed how raw he truly was this year, but I think Izzo can mold him into a dominant defensive center. Will he be Oscar Tshiebwe down there? No, but I could see him averaging 2.0 blocks and 7.0-plus rebounds per game next season while continuing his lob-threat ability. Maybe he'll even develop a post game on offense.
Coming off the bench would be Fears, Hall, Carr, Normand, Holloman, Cooper, and Brooks (assuming he doesn't hit the portal).
This will be one of the deeper teams that Izzo has ever had and full lineup changes won't completely crush momentum.
Raise your hand if you're looking forward to next season.
Michigan State basketball: Did Tyson Walker hint at return?
Something to monitor.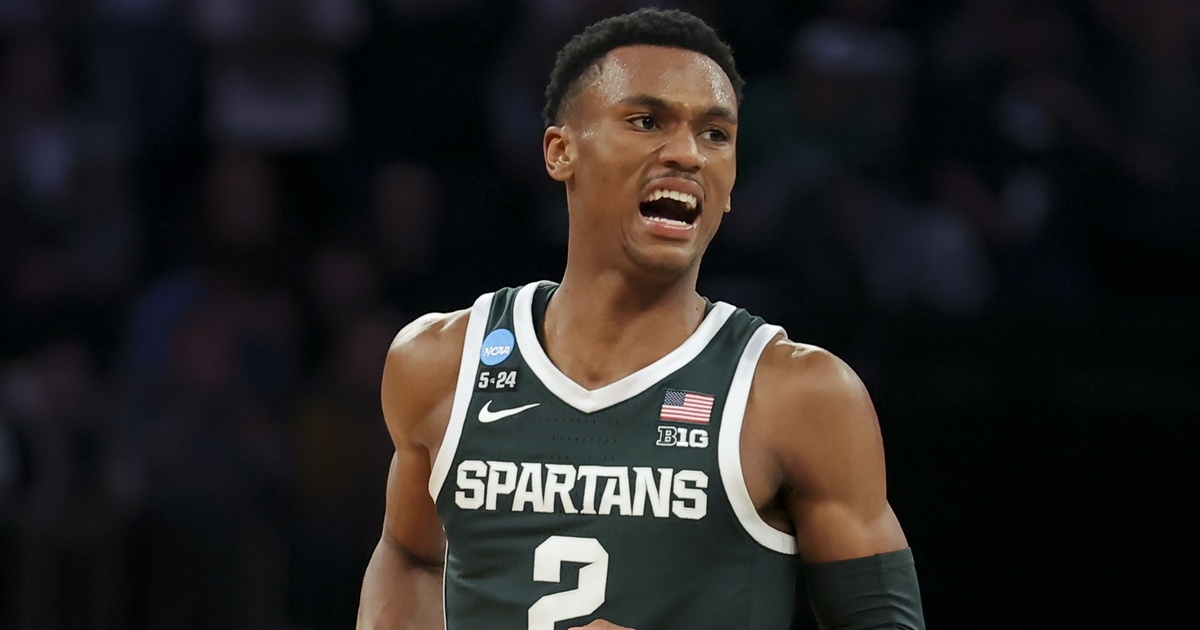 Tyson Walker might just be teasing us, but he hinted at a return to Michigan State basketball on Instagram.
Now that Michigan State basketball is headed back home after a crushing loss to Kansas State in the Sweet 16, a couple of storylines are going to dominate the offseason.
One, is Tom Izzo going to reach into the transfer portal for some help?
And two, will Tyson Walker, Joey Hauser, or Malik Hall decide to return?
The first question won't be answered until the second one is and it feels like it's been one-third answered. Hauser posted somewhat of a farewell on Instagram on Friday with the caption "that's a wrap" and a green heart emoji. No one was shocked as he was the least likely to return, but it was Walker's comment on the post that has people raising an eyebrow.
No surprise Joey Hauser is done with his college career and getting a lot of love from his MSU teammates on Instagram. The second part is 🤔 pic.twitter.com/VqVCkVJZTU

— Chris Solari (@chrissolari) March 25, 2023
The "idk who I'm going to sit next to on the planes now" comment followed by Houser offering up Jaxon Kohler seems promising. Maybe it's just two guys having fun with the fans, knowing that emotions are at an all-time high and we will find a way to make every word seem important.
But I'm putting stock in this. It just feels like Walker is leaning more toward coming back because he didn't even think twice about writing that knowing that people would overreact (like myself).
And Hauser's response makes it seem even more likely. Like he knows Walker wants to return.
Of course Walker had to post this to calm the rumor mill, but maybe he just let his intentions slip in the original post on Hauser's Instagram post?
It ain't always what it seem😂

— Twalk (@TysonWalker13) March 25, 2023
Maybe both guys are just messing around and both Hauser and Walker want to return along with Hall? OK, now I'm going way too far down the "what does this comment mean?" rabbit hole.
Either way, I would venture a guess of Walker returning with Hall while Hauser hangs up the green and white jersey for good.
If that's the case, it was one heck of a career for Joey and Walker has big things ahead of him in East Lansing.
We can hope.
Michigan State Basketball: 3 potential 2023-24 lineup options
There will be plenty of options.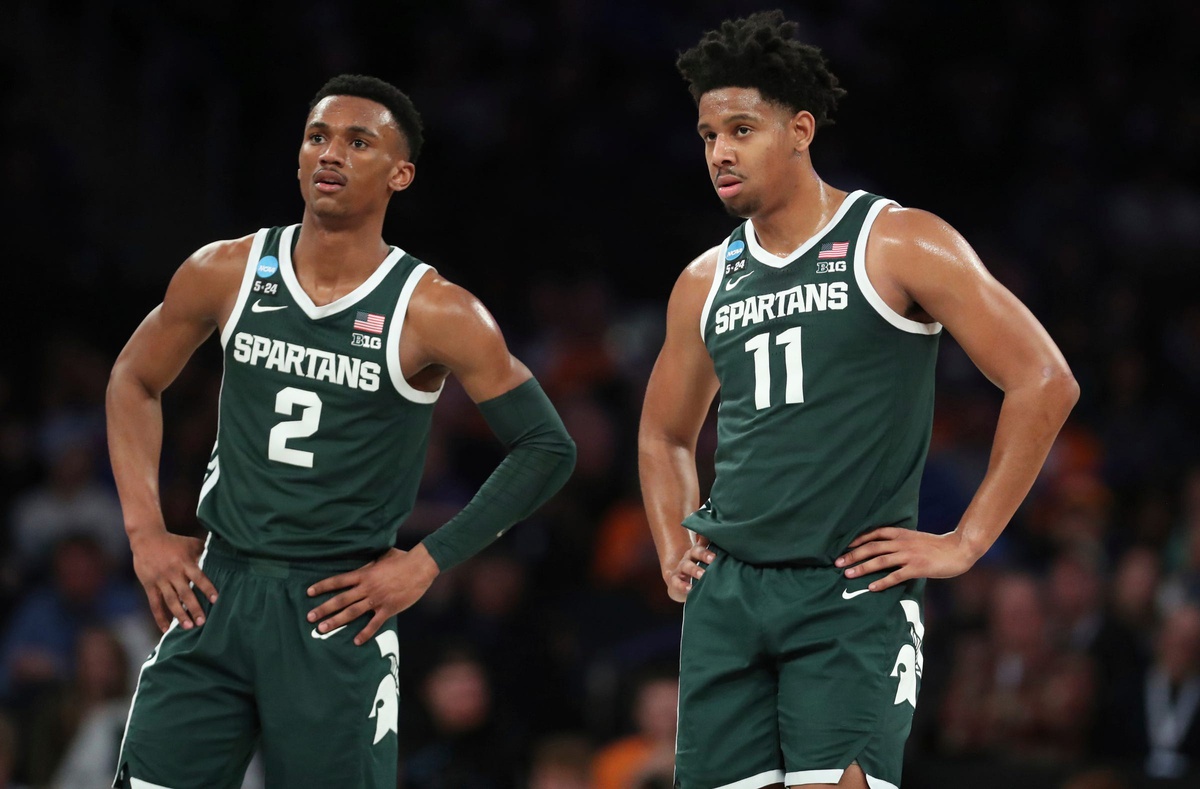 The Michigan State basketball season came to an unfortunate end yesterday after the devastating overtime loss in the Sweet 16. But what about 2023-24?
That loss is going to sting for at least the next few months. With Tennessee losing as well, the path to the Final Four was Michigan State's for the taking. Unfortunately, the better team won Thursday night, and it wasn't Michigan State basketball.
With that being said, there's a lot of hope and optimism looking forward. Along with the hope, however, comes numerous variables regarding the Spartans' roster.
Let's go through a few options Tom Izzo and staff can roll with, roster-wise, in 2023-24.
Option 1: Roll with the roster we have (with a returning member)
A.J. Hoggard/Jeremy Fears
Tyson Walker
Jaden Akins/Coen Carr/Gehrig Normand
Xavier Booker/Jaxon Kohler
Mady Sissoko/Carson Cooper
In option one, Tyson Walker doesn't want to leave Michigan State with the Kansas State loss looming over him and so he decides to return for one final year. One of the nation's best guard combinations of AJ Hoggard, Tyson, and Jaden Akins run it back with more experience and more expectations.
Being that Walker returning is the main variable in this scenario rather than a transfer acquisition, Michigan State moves forward with the players and recruits already bought in.
With that being said, Michigan State basketball would be left extremely thin at the four in this scenario. This would force Xavier Booker to step up (a common theme in these scenarios), along with a possible big ball lineup, shifting Jaxon Kohler to the four. With his offensive upside shown this season, but defensive downfalls, this could actually act as a plus.
Option 2: Attack the transfer portal
A.J. Hoggard/Jeremy Fears
Jaden Akins
Transfer Player/Pierre Brooks/Gehrig Normand
Xavier Booker/Coen Carr
Mady Sissoko/Jaxon Kohler
Most fans will be shouting for option two to become reality but, with Tom Izzo's track record, it's not as likely.
The variable for option two is Walker, Joey Hauser, and Malik Hall all electing to move on, so Izzo and Co. turn to the well that is the transfer portal. Doing so in the past has seemed to work out with Tyson, so Izzo will be looking to strike gold once again to fill the open wing position.
While there are plenty of names within the portal, the Spartans have been linked to just a few. Six-foot-6 small forward Zack Austin from High Point, 6-foot-5 shooting guard Jace Carter from UIC, and 6-foot-3 combo guard Jayden Taylor from Butler have all been contacted by MSU and would fill the three-guard/small four role well.
Still, MSU would be somewhat light at the four, so the coveted 6-foot-10 freshman Booker would find himself in the starting lineup once again.
The offense would be led by Hoggard, but run through Akins, as he's proven to be up to the challenge
Option 3: Feed the young bucks
A.J. Hoggard/Jeremy Fears
Jaden Akins/Pierre Brooks
Coen Carr/Gehrig Normand
Xavier Booker/Jaxon Kohler
Mady Sissoko/Carson Cooper
Even less likely than turning to the transfer portal, is option three.
A staple for Tom Izzo-led teams is veteran leadership. It isn't often a freshman steps in and is given a starting role right away. Think Kalin Lucas, Miles Bridges, or Jaren Jackson Jr. to name a few who were.
In this scenario, not only do Tyson, Hauser, and Hall all move on, but the Spartans also decline to bring in any transfer players. A young starting core would pose a difficult task for Izzo, leading this to being the least likely scenario. I can see plenty of frustration from Hoggard and Akins resulting from the inexperience around them, not to mention a possible second line of Tre Holloman, Pierre Brooks, Jeremy Fears, Gehrig Normand, and Carson Cooper. While it isn't likely this lineup would see the floor all at the same time, it's hard to find the trusted go-to guy in that group. MSU is better off avoiding this scenario.
In all reality, Michigan State's 2024 lineup will likely combine all three of these options. Why choose just one when the most realistic path back to the Final Four is a combination of the three? We will see.