Michigan State football: The good, bad, ugly from the spring "game"
Please give us a true scrimmage next year.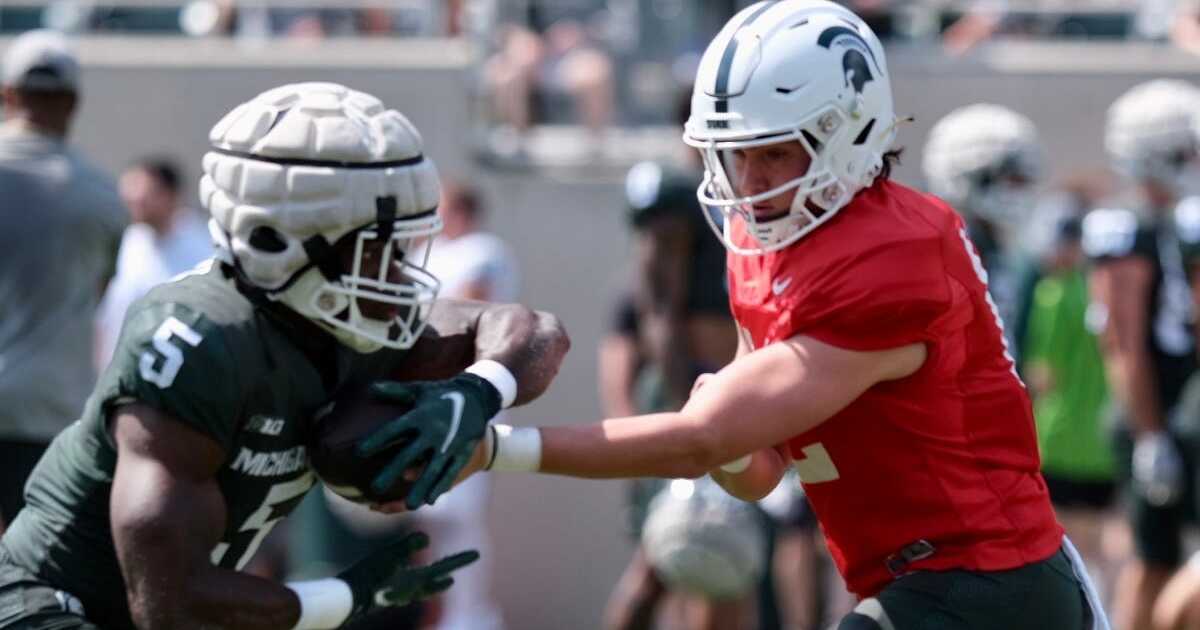 On Saturday, Michigan State football gave the fans a preview of the 2023 season. Here are my takeaways: the good, the bad, and the ugly.
On Saturday, Michigan State football gave the Spartan faithful a preview of the 2023 season. For the third consecutive year, Mel Tucker chose to hold this event like a regular practice, citing defensive line depth problems.
Over the course of around two hours, here are my takeaways, categorized as the good, bad, and ugly.
The good
There is an open race for QB1
On Saturday, all three scholarship quarterbacks for Michigan State football got an extended look. Payton Thorne, Noah Kim, and Katin Houser all saw reps with the first-team offensive line and wide receivers.
Thorne and Kim each led a two-minute drill, with both scoring touchdowns. While Houser did not get a chance to lead the offense on a two-minute drive, he was the first quarterback to take the field after the "halftime" of the practice.
Kim showed some of the best flashes, including a beautiful touchdown pass to Antonio Gates Jr. to end the practice. However, he also had a series earlier where he airmailed a pass into an already tight window of double coverage, then his next throw fell 10 yards shy of the receiver, and the final one was nearly intercepted by Angelo Grose.
Thorne, meanwhile, looked consistent. This is a marked improvement, as he did not have a safety valve in the form of Jayden Reed to throw to. Additionally, our other star receiver, Keon Coleman, was in uniform but did not practice outside of stretching with the team. As mentioned earlier, he led a touchdown drive in the two-minute drill, capping off a series of short passes and a chunk play to Tre Mosley with a 15-yard touchdown run. He might have been touched down by Malik Spencer, but the play on the field was called a touchdown regardless.
Houser did not have as many live reps as Kim or Thorne but looked better than his few repetitions in the 2022 scrimmage. He looked smooth and consistent, completing most of his passes and looking sharp. Unfortunately, there is not much more to write about him due to the lack of reps.
Mel Tucker did state that the reps received reflected the quarterbacks' spring performance, so those high on Houser might be waiting for more positive news to come out of summer camp in a few short nights.
The receiver room is explosive
Despite losing Reed, Daniel Barker, and Tyler Hunt to graduation and the draft, the receiver room looked dangerous today. Coleman was out today, but every other player was making plays. Gates Jr. and tight end Jackson Morse caught touchdown passes. Maliq Carr made a one-handed grab. Cade McDonald made an amazing mid-air adjustment to come down with a highlight reel catch. Christian Fitzpatrick looked smooth in routes, catches, and toe taps. Michael Masunas made it clear that Carr has competition if the latter wants to be starting in September. Even Jalen Berger made a few plays receiving. Tre Mosley burned Chester Kimbrough to set up Thorne's rushing touchdown in the two-minute drill.
This is all before I mention the two stars of the day — the first being Tyrell Henry. Without Reed, Coleman, and the transfer of Germie Bernard, the first of my duo made his case for a starting role. Henry was a player we needed to see make that leap, as he warranted enough of a look as a freshman to not be redshirted by Tucker despite the loaded group last year. Based on today, that playing time last fall was well worth it. Henry could be a star for the Spartans, and if we lose Keon Coleman to the draft after 2023, we are in great, reliable hands.
My other star is not other than Montorie Foster Jr. who comes back for his senior year on a mission. He played with a purpose and looked like an entirely new receiver. On Kim's aforementioned overthrow, Foster had beat the corner coverage and would have enough separation with a perfectly placed ball. He created separation, blowing away defensive backs with his footwork and speed. Foster enters the year with two touchdowns, and I expect him to match this total well before conference play starts.
The bad
The offseason was a roller coaster for Michigan State's defensive line, one that saw the highs of obtaining star defensive linemen, namely Bai Jobe and Tunmise Adeleye, and the lows of losing Brandon Jordan to the NFL coaching carousel and the dismissal of Itayvion "Tank" Brown.
The war in the trenches was a major key to look at today, and I ended up disappointed. The pass rush did not hold up well against the offensive line in single drills, and not much changed during the scrimmage portions of practice. Both two-minute drills barely saw any pressure on Kim or Thorne, letting the two score touchdowns. The one time the pressure got to Thorne, he escaped for a rushing touchdown. The pass rush was lackluster, even with Jacoby Windmon taking first-team edge rush reps during the two-minute drill.
This is a group that is talented but young, and someone needs to step up. One of the few veterans in the group is Brandon Wright, who had a nice rep where he bull rushed through Ethan Boyd. Wright looked poised for a breakout after a strong end to 2021 but did not do much in 2022 before ultimately ending the season suspended.
Our offensive line looked moderately improved, but based on the defensive struggles the Spartans faced against conference competition last year, I am not putting much stock in it.
Nick Samac and JD Duplain bring a veteran presence to a group losing Jarrett Horst. The line cleared a few holes, leading to some nice runs for Jaren Mangham and Jalen Berger. Duplain looked good in one on ones, locking up players. On a swim move attempt by James Schott, the senior did not budge an inch. This is a group where no one stood out, but, considering our mentioned defensive woes, should have impressed this spring.
On a day that saw the Izzo 5k Run that drew thousands of participants, the crowd and traffic on campus was similar to that of a game day. Around 15 minutes into practice, the lower bowl was relatively well attended. However, most of the crowd was tuned out by the time halftime rolled around. Between the heat and drills, a majority of the attendance had left before the live scrimmaging had begun.
This does not fall on Spartan Nation, as the format was not the most engaging. The biggest disappointment is I remember previous spring games where the coaches and former players would call on the crowd to turn up the intensity to simulate a game environment for two-minute drills, and that was nowhere to be seen today.
The ugly
Our secondary already had enough issues last year, and losing Xavier Henderson and Kendell Brooks did not do favors for this team. None of the secondary had a particularly strong day.
Jason White had a few good reps in press coverage one-on-ones, but that did not translate to plays during the scrimmage. Grose made a breakup and had some good looks, but also had plays where he appeared lost on the field. Kimbrough was quiet today, besides giving up a big play to set up a touchdown. This comes after Kimbrough looked impressive in the 2022 spring practice, so him being quiet today is even more concerning. Caleb Coley, Jaden Mangham, and Malik Spencer all had their moments in this game, but all have a lot of room for growth and improvement.
I was not expecting to be blown away today, but I was also not expecting the secondary to look like it did against Washington last year, either. There are things to look forward to, however. Darius Snow (a potential nickel) should be ready to go in the fall and Ade Willie was out, putting two more players in the mix come summer.
The injury bug is alive and well
Today made it quite clear why we did not have a full team scrimmage. Coleman, Snow, Khris Bogle, Willie, Jarrett Jackson, Charles Brantley, Dre Butler, Gavin Broscious, and Kris Phillips all either did not participate or were limited to just team stretches today. In addition, Khary Crump is still suspended from the team, and A.J. Kirk and Quavian Carter were both not seen at all today.
To top things off, Alex VanSumeren and Ma'a Gaoteote each went down with injuries during the limited scrimmage time. Gaoteote's injury appeared to be more serious, with trainers helping hold his arm out as he went back to the locker room immediately after his injury occurred. If you count the two injuries today with Crump, Kirk, and Carter to the list of players out, that makes 14 players out in 15 spring practices.
I am hoping this grocery list of players out was for precautionary reasons, or else we might be starting kickers on defense and a punter at wide receiver by the end of the year.
The uglier
I understand, especially based on my last few paragraphs, why the spring game became a practice. However, based on the dwindling of the crowd, this format is not helping bring people out to see the team. It's hard to build hype around the team and draw a crowd for a practice. The spring game needs to simulate a game atmosphere to draw in recruits who get to see what it would be like to walk into The Woodshed. This is one of the top spring football weekends for recruiting of the year, and a game brings that intensity.
Based on our area of recruiting, some recruits also need to see what they will be facing and be intimidated by the thought of the MSU energy if they commit to the school down the road, Ohio State, Wisconsin, or Indiana down the line.
The game gives the fans a reason to be excited. They get to see both the established veterans as well as adding a new name of people for them to watch down the line. Everyone has a player that they get excited about based on spring game results. While some of them may not pan out, it still is more appealing to the average fan and even gives the diehards a new favorite.
I can still recall a few of the final Dantonio spring games and a few of my favorites. Alante Thomas, a walk-on running back and younger brother of former Spartan and NFL veteran Lawrence Thomas, was one of my favorites based on a spring game where he nearly rushed for 100 yards. Kenny Willekes was a player I marked as quietly impressive before his first year as a starter. Finally, the one I mainly remember as a guy who I circled and said "he is going to the NFL" was that of a slightly undersized corner wearing a No. 22 jersey, going by the name Josiah Scott.
Without a spring game, these moments are not occurring for the fans, whether they are casual, diehard, young, old, or anywhere in between.
My final gripe was the pacing. After an hour of baking in the sun with little to no cloud cover, halftime was announced. That hour had felt like three. After halftime, a lot of the drills had turned into live scrimmage reps, engaging a lot more of the fanbase watching. There was only one problem: by that point, maybe 30 percent of the peak attendance was left.
The great
I did not want to end this on a negative note, so I would like to discuss one final positive from today: our recruiting. David Stone Jr. spent all of pre-practice by the endzone and engaging with fans and signing autographs while wearing a "Spartans vs. Everybody" shirt. Considering the loss of Brandon Jordan, it is a relief to still see Stone out in East Lansing and actively considering being the next Michigan State football great.
Finally, the Spartans also picked up a commitment to finish the day, with Baltimore native Logan Bennett, a three-star offensive lineman in the class of 2024, committing to Michigan State.