Michigan State football: To (Payton) Thorne or not to Thorne, that is the question
Did Payton Thorne save his job on Saturday?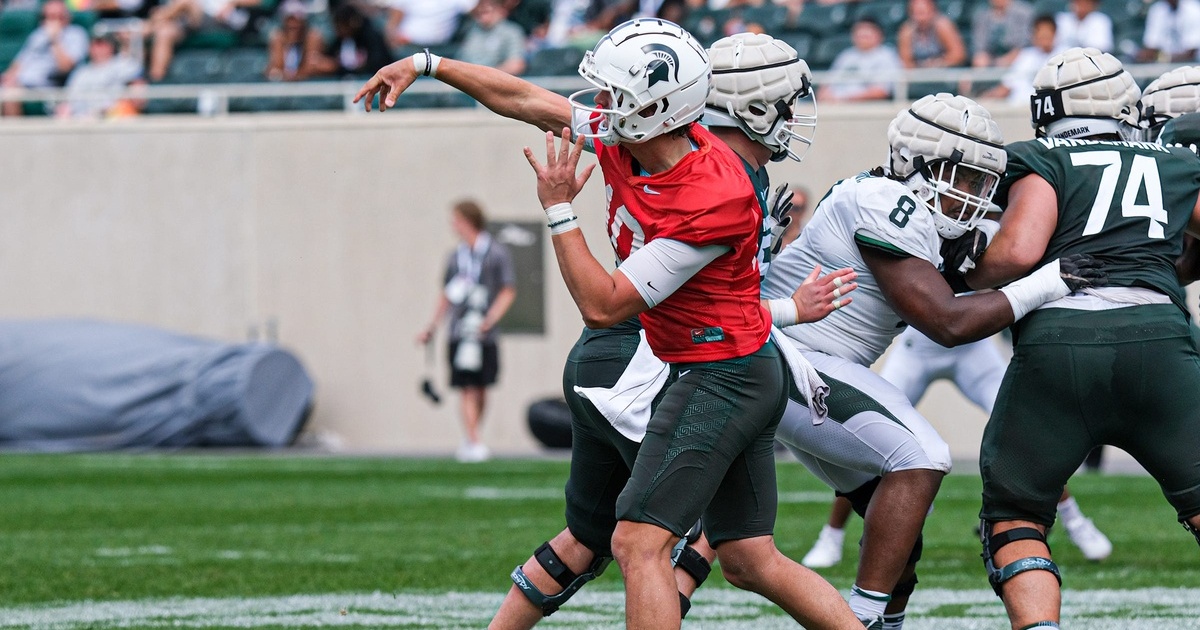 The quarterback job has been the hot topic regarding Michigan State football since the conclusion of the spring "game" on Saturday.
With the Michigan State football spring game in the books, one topic, in particular, is dominating the conversation: Who will be the starting quarterback?
By all accounts, it appears as though the job is still Payton Thorne's until one of Noah Kim or Katin Houser are able to pry it away.
After a disappointing season at the quarterback position last year, many MSU fans are ready for a change. After all, everyone's favorite player on a bad team is the backup quarterback because they represent the allure of the unknown upside.
With Thorne, MSU fans had the pleasure of watching a record-setting season that concluded in a New Year's Six bowl win but also a train wreck of a season where the team finished without qualifying for a bowl game. The detractors of Thorne will tell you that his success two seasons ago was primarily due to playing alongside a generational talent at running back that forced defenses to stack the box.
The reality is, though, Thorne still had to make the throws.
We saw this much in the game vs. Michigan. Kenneth Walker III had a historic day running the football but there were multiple times, including fourth downs, where Thorne made the exact type of throws you'd want from your QB1.
After Saturday's spring game, Thorne talked about the injury he tried fighting through last season. He said he sustained an injury in the game vs. Western Michigan. He described it as playing with a "flat tire." The injury certainly explains some of his struggles but it doesn't dismiss them all. The case can be made that the coaching staff should've made a change at the position to both protect Thorne and also allow better in-game looks at Kim and Houser. If that had happened, we'd be operating this offseason with much more clarity. But alas, here we are.
Speaking purely from a fan perspective, I know whoever wins the QB1 job will have the full support of the fanbase. My goal here is to share three pros and three question marks surrounding Thorne's status as QB1.
Pros of Thorne as QB1
Experience. The benefit of having an experienced quarterback is that you can trust that they won't be rattled by big moments because they've been there before.
Glimpses. As stated above, we've seen glimpses of Thorne playing really good football. Even with a generational running back by your side, you don't accidentally set a school record for passing touchdowns. Thorne still had to make those throws. The NY6 game vs. Pitt gave us a picture of Thorne leading the team to a big win as opposed to K9 carrying them.
Continuity. There's nothing more important at the quarterback position than trust. Does your head coach trust you? Do your teammates trust you? Having Thorne's voice in the huddle gives the team continuity as the roster continues to evolve elsewhere. The running back room looks different. The receiver room looks different. The one thing that can make it all gel? The voice of a trusted quarterback.
Questions about Thorne as QB1
Can he face pressure? Last year Thorne overthrew a lot of passes. On countless occasions, receivers created separation to get open but would eventually be overthrown. The injury is certainly a part of this equation but it's more than that. Go back and watch the film on Thorne from either season and watch his feet. When the pocket gets muddied he has a tendency to start tap-dancing. He gets jittery and doesn't plant his feet often. Anyone familiar with quarterback play will tell you, this leads to sailed balls like we've seen consistently from Thorne.
Will he make his reads? Thorne is notoriously a one or two-read guy. It's not often that we've seen him get through his progressions and make the right read. I don't blame him for locking in on Jayden Reed and Keon Coleman one bit. However, between Montorie Foster, Maliq Carr, Daniel Barker, etc., MSU had plenty of other guys on the roster last year that should've been bigger contributors but they weren't really given a chance because of where their reads fell in the progression. With Reed now gone and teams keying in on Coleman, MSU needs a quarterback that can spread the ball around to the open spots, not predetermined reads.
Consistency? Even in the peak version of Thorne that we've seen over the last couple of years, his consistency has always been lacking. He can make an NFL-caliber throw and immediately follow it up with missing a wide-open receiver in the flat. Michigan State should have an improved running game this year, but the overall success of this offense will rely primarily on the quarterback's shoulders. With the receiving group looking much different, the team will need consistent play from QB1. Thorne has had enough reps as the starter to wonder if this issue is correctable.
An improved offensive line this season could help Thorne with my first two concerns if he's, in fact, named the starter. Thorne deserves the opportunity to prove that he can improve in these areas through camp. However, if his play remains consistent with what we saw last year, he shouldn't be handed the starting job just because of seniority.
Michigan State football fans need to rally around the position and the coach's decision. With that said, there's a legitimate debate to be had for both sticking with Thorne or moving on. This conversation will only intensify with months still to go until the season kicks off.
May the best man win.