Michigan State football: Breaking down the 2023 coaching staff
What does the staff look like heading into 2023?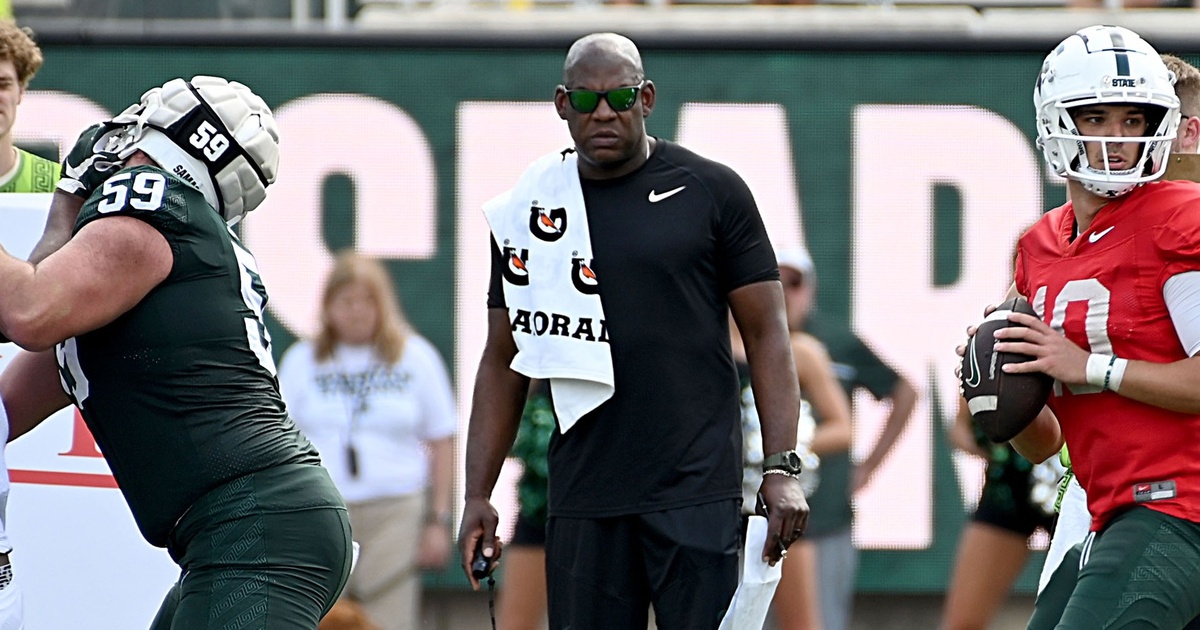 The Michigan State football coaching staff looks a lot different than it did a few years ago. Who's directing traffic in East Lansing?
You may be surprised by how much the Michigan State football coaching staff has changed in some areas over the last couple of years, and equally surprised by how it's stayed the same in others. There were a lot of questions raised about this staff over the last year or so, but before asking any more, let's figure out what we're working with here.
To break down the staff, I'll separate the major coaches into their respective groups (offense, defense, special teams) and give some information & analysis.
Without further ado.
Offensive coaches
At 53, Jay Johnson is a veteran coach with plenty of experience who's been with the team since 2020. He previously served as offensive coordinator for four other FBS schools, including Minnesota and Colorado. His résumé is even more extensive than that, but the situation is a lot better on paper.
Johnson had an excellent 2021 season that saw him nominated for the Broyles Award (awarded annually to the nation's top assistant coach), and it appeared his future was bright. The mess (for everyone) that was the 2022 season, though, saw his stock take a downturn. MSU's offense was constantly stagnant, failing to move the ball both through the air and on the ground. This will be a critically important year for Johnson and his future with the program.
Chris Kapilovic, OL coach/Associate HC/Run game coordinator
Here's another veteran coach on the Spartans' staff. Chris Kapilovic, 54, joined the program in early 2020 as one of the coaches carried over from Tucker's tenure at Colorado. He previously filled coaching roles at Southern Mississippi and Colorado as well and also played offensive tackle in college.
Michigan State's offensive line has been a mixed bag under Kapilovic. The unit was often messy in 2022 but was solid in 2021 and produced an NFL player in AJ Arcuri.
Overall, it seems he's done a pretty solid job, both coaching and recruiting, and I have a bit more confidence in him than some of the other coaches mentioned here. I'd definitely like to see some consistency with the unit going forward, though — a reliable offensive line is the foundation of a powerful offense.
In his fourth year with the program, Ted Gilmore is one of my more trusted coaches on the staff. The 56-year-old has 28 years of coaching experience, split between Wyoming, Kansas, Houston, Purdue, Colorado, Nebraska, USC, and Wisconsin (holding positions coaching tight ends and receivers), as well as three years coaching receivers with the NFL's Oakland Raiders. Under his coaching, many players have set school records and gone on to the NFL, including wide receiver Robert Woods, who has 7,604 career NFL receiving yards.
Admittedly, though, MSU's tight ends weren't overly impressive in 2022 — neither Daniel Barker nor Maliq Carr looked like they really fulfilled their potential. The year before, though, Connor Heyward looked great and was drafted by the Pittsburgh Steelers in the sixth round. It also helps Gilmore's case that he seems to be a solid recruiter, having reeled in four-star tight end Brennan Parachek as well as numerous transfers at the position.
Overall, I have fairly high hopes for Gilmore and the MSU tight ends in 2023. Hopefully, the veteran coach can guide Carr to the breakout season that he's due for.
Courtney Hawkins, WRs coach
Courtney Hawkins may be my most trusted coach on this staff. Before stepping into his current role with Michigan State football, Hawkins had an excellent career as a wide receiver for the Spartans before playing nine years in the NFL.
Under his direction, MSU's receivers have flourished and developed — Jalen Nailor was drafted by the Vikings, Jayden Reed looks primed to go in the later rounds this year, and Keon Coleman has developed into a real No. 1 type guy.
The Spartans have a lot of potential issues for 2023, but rest assured that the growth, development, and production of receivers won't be one of them — Hawkins knows what he's doing.
Effrem Reed is a young coach at 30 years old, and consequently, a guy who doesn't have much of a track record to go off of. He was an offensive analyst for MSU before being promoted to running backs coach in early 2022 and only has one year of experience under his belt. In that year, MSU's running backs didn't blow anyone away, but Jalen Berger was solid overall, and offensive line issues plagued the run game in general.
We simply don't have enough info about the former Louisiana running back to draft any real conclusions yet — you and I will just have to wait and see how the group looks in 2023.
Defensive coaches
Scottie Hazelton, DC/LBs coach
Part of the wave of coaches brought in upon Mel Tucker's overhaul of the staff in early 2020, Scottie Hazelton's previous résumé looks great on paper: he was the defensive coordinator for some excellent defenses at FCS champions North Dakota State, as well as holding the same role with good results for Kansas State. He also helped out at USC, Nevada, and with the NFL's Jacksonville Jaguars.
This past success seemingly hasn't translated to Michigan State, though.
Over the past couple of years, MSU's secondary has ranked near rock-bottom nationally in terms of yards given up, leading to a lot of calls for Hazelton's job. To his credit, though, he's also the linebackers coach, and that's been an excellent-looking unit. If the defense struggles mightily again, however, some fans think that it may be time to relegate him to linebackers coach only and look for another defensive coordinator.
Lack of talent has certainly played a role, but to repeatedly have such woeful defensive performances raises a lot of valid questions. This is a make-or-break year for Hazelton.
Diron Reynolds is one of the newest hires, joining the Michigan State football staff in early 2023. He has plenty of NFL and college experience, spending six years as the defensive line coach at Stanford (where he developed current Viking and former third-round pick Harrison Phillips), as well as recording time with Indiana, Wake Forest, and Oklahoma. He also coached for 10 total years between the NFL's Minnesota Vikings, Indianapolis Colts, and Miami Dolphins.
Past experience doesn't always translate, but years of working with top NFL talent can't hurt.
I'm not really sure what to expect out of Reynolds for 2023, but overall, I'm looking forward to seeing what he can bring to the table. After going through a couple of defensive line coaches over the last couple of years, it'd be nice to have a guy who sticks around. We'll see if Reynolds can be that guy.
Harlon Barnett, DBs coach
Harlon Barnett is a cool story, having played football at MSU himself as well as several years in the NFL before coaching an excellent defensive backs room under Mark Dantonio at Cincinnati. He returned to Michigan State football in 2007, helping to oversee one of the most successful eras in program history and having multiple defensive backs drafted. He briefly left for Florida State after that, but soon returned to the MSU staff where he is today.
Sadly, however, something definitely changed. A lot of it can likely be chalked up to a lack of talent, but MSU's secondary has, frankly, been awful over the last couple of years. If Barnett and Co. can pick things back up, it would do a lot for the Spartans. We'll have to see if that happens or not.
Jim Salgado is one of the more intriguing coaches on the Spartans' staff. He was named the program's cornerbacks coach in March of 2023, having previously spent six years with the Buffalo Bills as well as time with Syracuse and Princeton. During his time in Buffalo, he coached the safeties/nickelbacks before being fired in January of 2023 — make of that what you will.
Salgado is definitely a coach to take note of, but don't consider all of Michigan State's cornerback issues solved — you never quite know how someone will translate.
Considering his mixed bag of experience, fans don't have a lot of assurances, but I could definitely see this hire panning out. Sometimes coaches who struggled in the NFL can excel with less pressure on them, so here's hoping that Salgado is one of those cases.
Special teams coach
Ross Els, Special teams coordinator
The Spartans' special teams have been a rollercoaster under the 57-year-old Ross Els. Bryce Baringer emerged as arguably the best punter in the nation over the past season or two, but the field goal unit was atrocious and frequently cost MSU critical points.
Now that Baringer — who may have been Els's saving grace — is presumably off to the NFL, this will be a big year for the coach. If Michigan State continues to encounter severe issues with field goal kicking, it's not out of the question that Els could be shown the door. The ability to consistently make field goals is massively important, and if the team can't achieve some semblance of that, Els will catch plenty of blame.
Yet another coach heading into a make-or-break year.
Conclusions
The Michigan State coaching staff inspires a lot less confidence than it did when the team was coming off a New Year's Six bowl win. There are plenty of new hires, unproven staffers, and guys with iffy track records, but there are also some bright spots. It's a unit that I really have no idea what to expect from, overall, given the lack of consistency.
As much as I hate to say it, we're really just going to have to wait and see what happens.
That's all we can do.
Go Green.
Michigan State football: Washington game time, channel announced
Fans won't be too thrilled about the channel.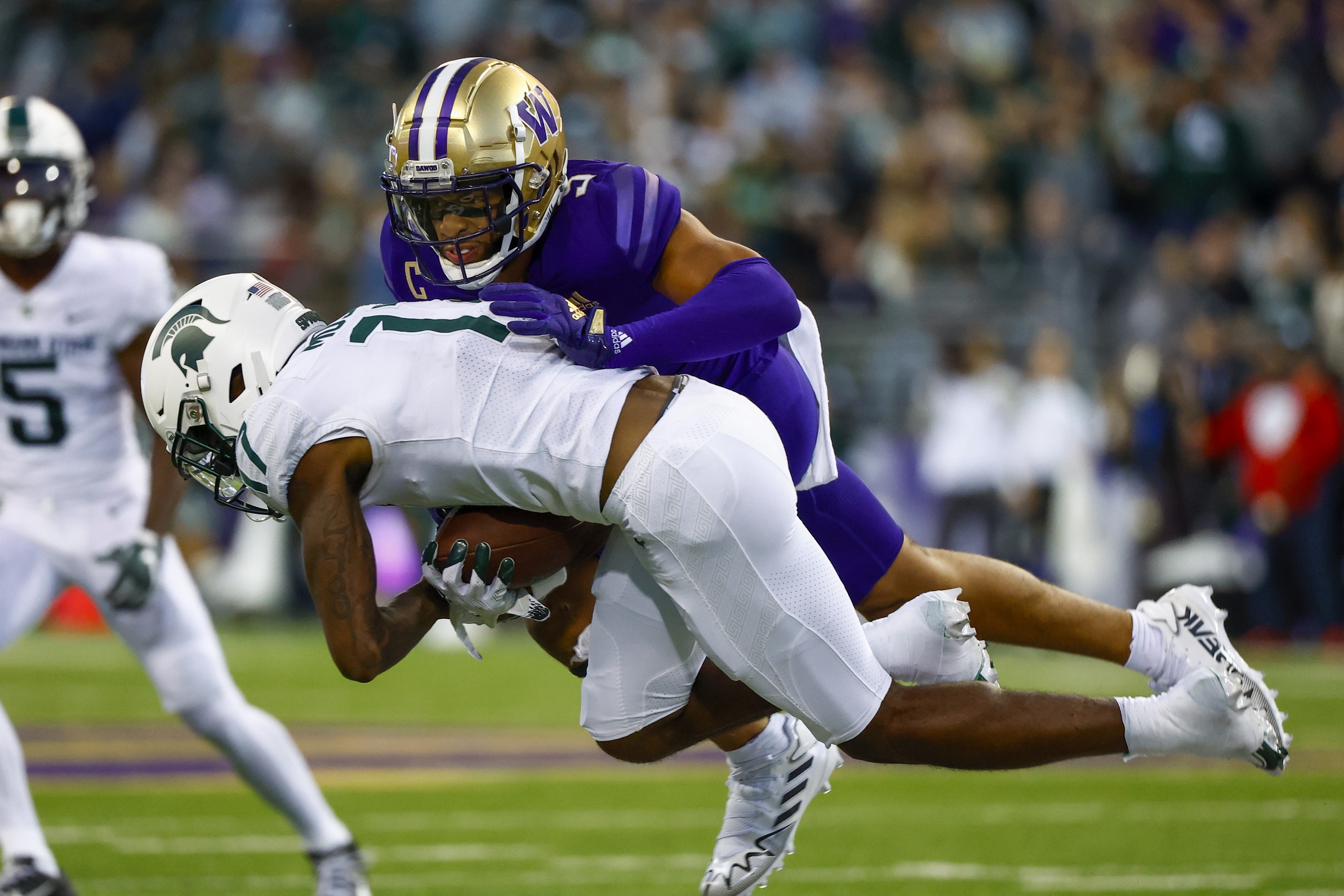 The Washington vs. Michigan State football rematch is on Sept. 16, and the Spartans have revenge on their minds.
The game time for the Washington vs. Michigan State football game was just announced and is one I think most Michigan State fans will be happy with. The game will kick off at 5 p.m. ET on Sept. 16.
MSU-Washington will be a 5 p.m. kickoff at Spartan Stadum on Sept. 16 and air exclusively on NBC's Peacock streaming platform.

— Chris Solari (@chrissolari) May 31, 2023
This is a great start time for Michigan State fans. That will give fans plenty of time to travel to East Lansing, enjoy a tailgate and get into the stadium. On top of that, the game will get down around 8 p.m. ET which is good for the crowd that does not like to be out late.
However, I think a lot of fans were hoping for a noon start time in this game. A noon start would have been a 9 a.m. local time for Washington, likely giving the Spartans a slight advantage. It's no surprise seeing this big of a game scheduled in the evening to avoid that.
On top of the game time announcement, where the game will be aired on TV was also announced. This is where the good news ends. The Spartans game against Washington will only be available for streaming on Peacock. That means Spartan fans at home will have to pay to watch this game. However, a simple Google search showed me that Peacock currently only costs $20 for the entire year. A lot of Big Ten football and basketball games will only be available on Peacock this season, so that may not be a bad investment to make right now if you can.
What would a win mean for Michigan State football?
Michigan State will have revenge on its mind in this game. Washington beat the Spartans last season in Seattle 39-28. The game however did not feel that close. Michigan State made a late comeback to make the final score look respectable, but a lot of fans will tell you we never really stood a chance.
Washington will likely be a top 10 heading into this matchup, so Michigan State has a great opportunity in front of it. A win would would help spring the Spartans into the conference season with a lot of positive momentum.
Jordan Hall hosts second annual free youth football camp (Video)
Jordan Hall is a legend already.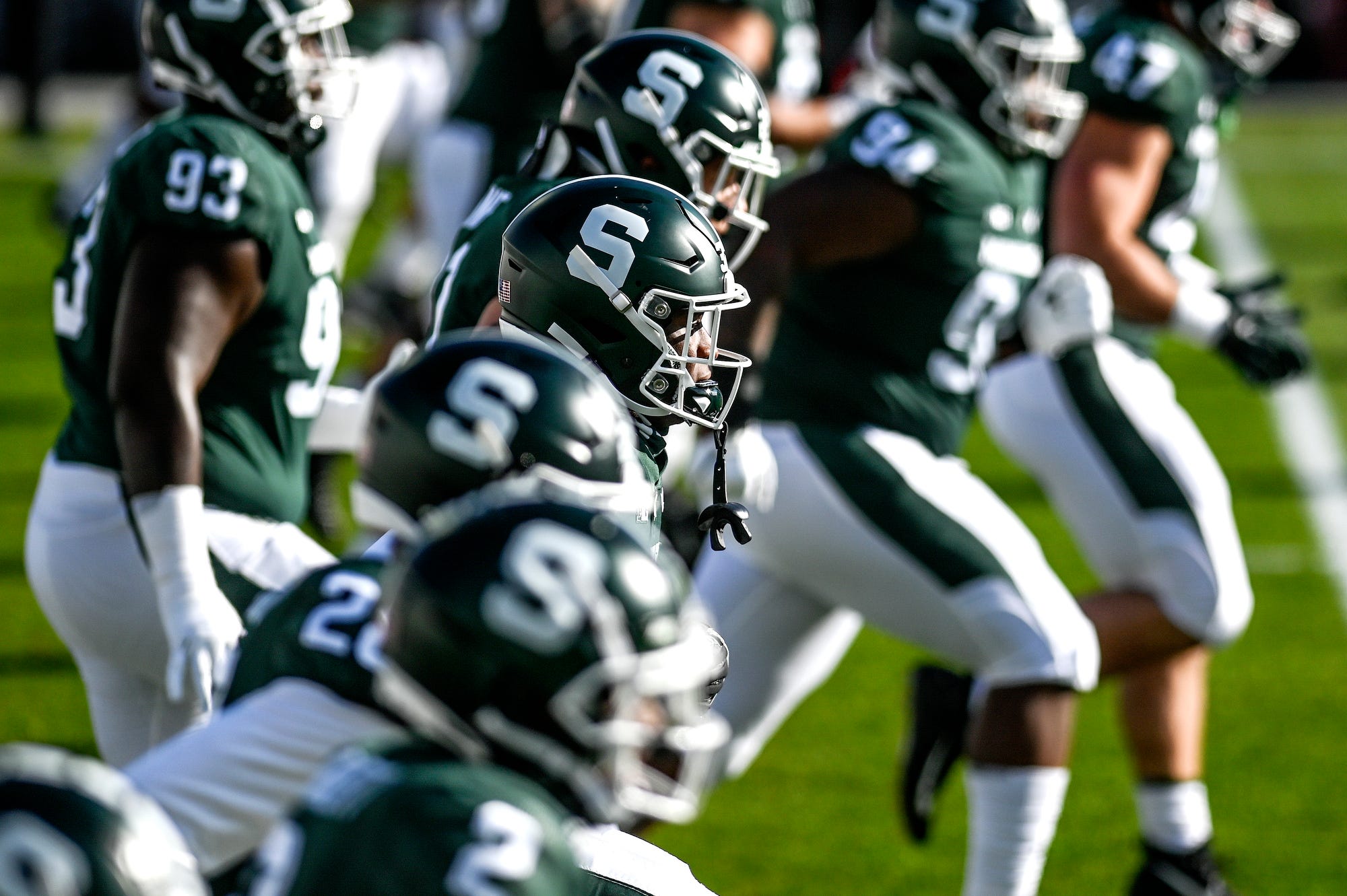 Michigan State freshman linebacker Jordan Hall continues to show just why he's one of the best out there.
Jordan Hall is already showing signs of being the next great Spartan on and off the field.
The Michigan State freshman linebacker was born and raised in Fredericksburg, Va. However, he most recently moved to Bradenton, Fla., to play football at IMG Academy.
This past weekend, Hall returned home to Fredericksburg to host his second annual free Jordan Hall Youth Football Camp.
The Jordan Hall Youth Football Camp…

Jordan's youth football "career" started at this field with one goal post, uncut grass, car lights at night for light to be able to practice and woods for bathroom breaks; but one thing it didn't lack was LOVE, GUIDANCE, & LIFE LESSONS. 💚🤍 pic.twitter.com/8kjJD7mTkP

— Cyreeta Hall (@MommaHall2U) May 31, 2023
Hall has already been making a name for himself on the field for the Spartans this spring. His play and effort has been praised by fellow players and coaches alike. IMG Academy has a long history of producing high-quality athletes. This makes Hall's tenure in the program even more noteworthy. He became the first three-time captain in IMG Academy history.
When coaches are recruiting players, they are hoping to find the perfect mix of talent and character. You don't become a three-time captain of a storied school like IMG Academy without having both.
In a recent interview with Spartan Shadows, Cryeeta Hall said of her son, "One of his favorite things he loves to do is teach the game of football to kids. He loves to coach."
Michigan State fans are excited to see what Jordan Hall can contribute on the field, but his character off the field so far is creating just as much excitement. When you see a young man with the heart and determination to give back to his hometown, it lets fans know this is the sort of player you can to rally around and support. Mel Tucker has shown intentionality in his recruiting. He has a specific type of player that he's looking for. Jordan Hall epitomizes a Tucker type of player.
Hall has the potential to earn immediate playing time this year as a true freshman. I'm not a betting man but if I were, I'd wager that we'll see him as a team captain for the green and white sooner than later.
Mel Tucker is best coach in the Big Ten when it comes to one stat
This may surprise you.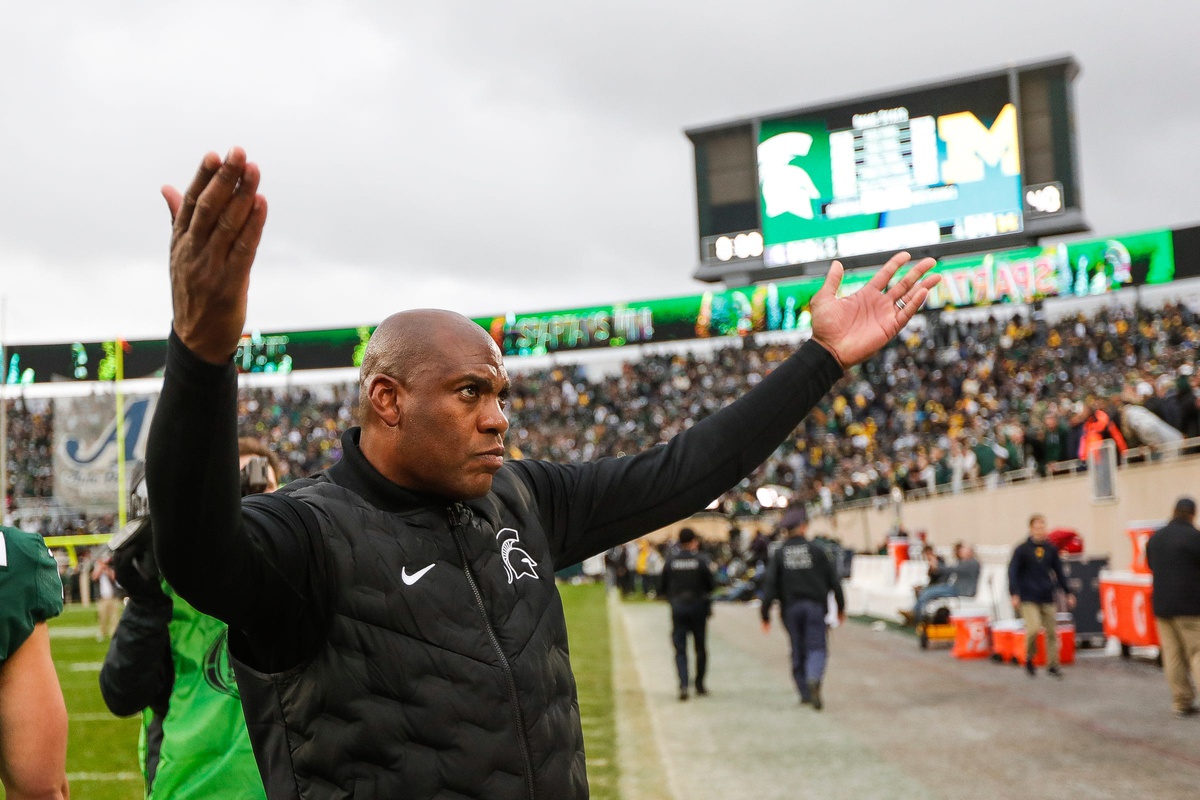 Mel Tucker is the best coach in the conference when it comes to this one surprising stat.
Michigan State football coach Mel Tucker is one of the best coaches in the Big Ten when it comes to close games.
This may surprise some considering two of Tucker's three years at Michigan State have resulted in losing seasons. But the data shows that Tucker knows how to come out on top when the game is close.
He has been at Michigan State since 2020. During that three year timeframe he boasts a 10-1 record in games decided by 10 points or less which is the best record in the conference during that span.
Here is a list of all 11 of those games:
2020
at Michigan (W 27-24)
vs. Northwestern (W 29-20)
2021
vs. Nebraska (W 23-20)
at Indiana (W 20-15)
vs. Michigan (W 37-33)
vs. Penn State (W 30-27)
vs. Pittsburgh (W 31-21)
2022
vs. Wisconsin (W 34-28)
at Illinois (W 23-15)
vs. Rutgers (W 27-21)
vs. Indiana (L 39-31)
How impressive is this really?
A 10-1 record when games are within 10 points is extremely impressive. The only loss on this list is Indiana from last season, a game Michigan State likely should have one. The Spartans ended up losing in overtime to the Hoosiers, but were a chip shot field goal away from winning in regulation. That is a field goal college kickers make almost every time, so Tucker's one loss on this list could easily have been another win.
Regardless, 10-1 is the best winning percentage in games decided by 10 points or less in the Big Ten during that three-year span.
This is how the rest of the Big Ten teams fared during this same timeframe:
Michigan State: 10-1 (.909)
Maryland: 8-3 (.727)
Iowa: 11-5 (.688)
Indiana: 7-4 (.636)
Purdue: 12-7 (.632)
Ohio State: 3-2 (.600)
Michigan: 6-4 (.600)
Minnesota: 9-7 (.563)
Rutgers: 7-6 (.538)
Wisconsin: 6-7 (.462)
Penn State: 5-7 (.417)
Northwestern: 5-9 (.357)
Illinois: 6-11 (.353)
Nebraska: 5-16 (.238)
What does this tell us about Mel Tucker?
One thing this tells us is the Tuck is a great in game coach in tight situations. No coach goes 10-1 in close games by accident. Sometimes there is a lot of luck involved with winning close games, but that's not necessarily the case when you win them this efficiently. Anyone can close a game out when you are up by 20, but not everyone can win a close game in the closing seconds.
This statistic is not all good though. Michigan State has won 18 games during the past three seasons. This means that over half of the games Mel Tucker has won at Michigan State have been within 10 points. For a program with extremely high goals, that fact is a little scary.
As I mentioned before, sometimes luck has to be on your side to win these close games. So relying on winning a lot of close games to have a great season is not a recipe for success.
One things for sure though, as long as Mel Tucker is the coach at Michigan State, we stand a very good chance at winning any close game.