Michigan State Hockey faces weekend battle for top of the Big Ten
Will the Spartans overtake first place?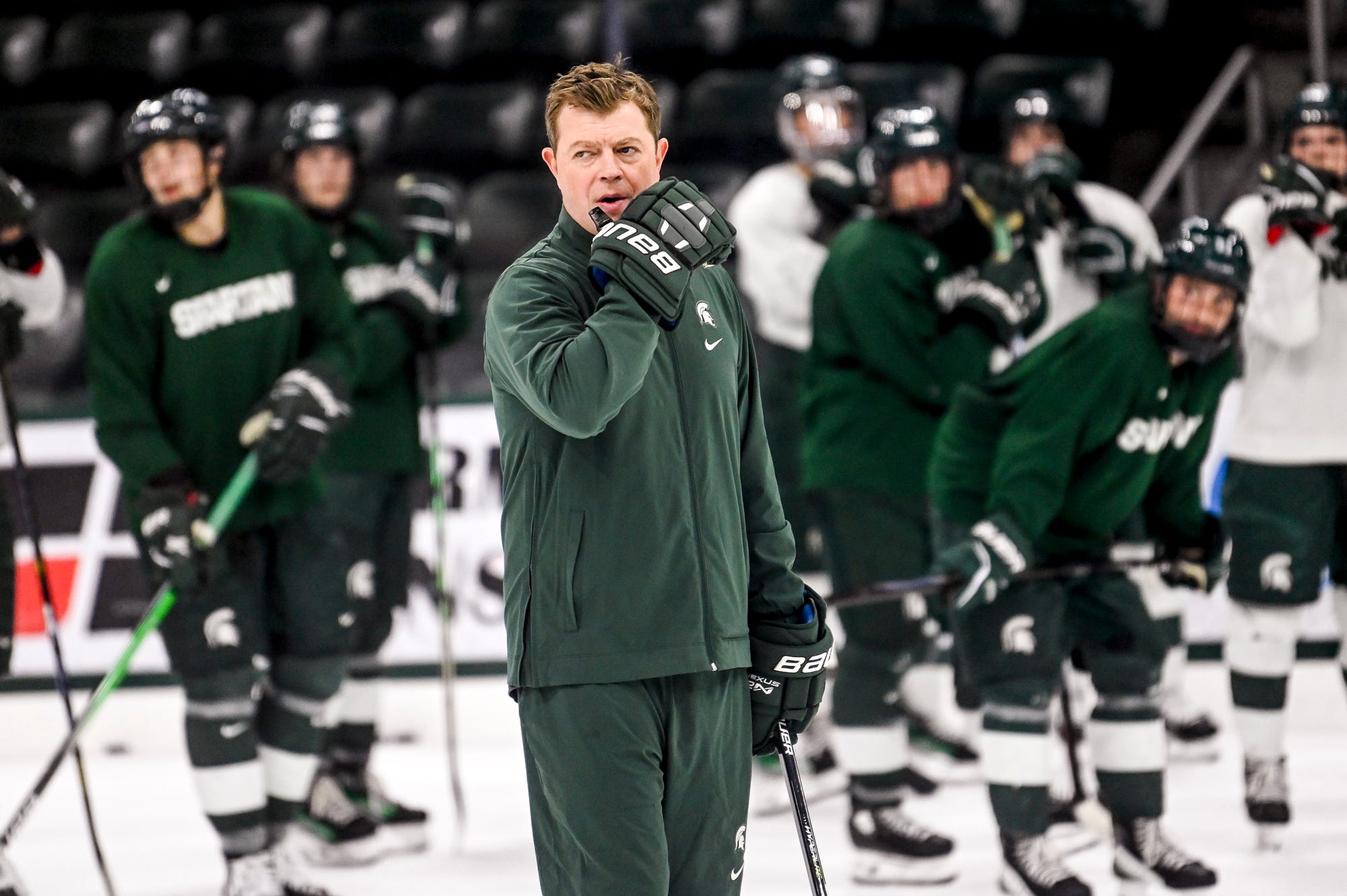 Michigan State hockey will host Wisconsin for a double-dip this weekend with a No. 1 spot in the Big Ten on the line.
Looking around the MSU athletic scene, there might not be much to celebrate, but something huge is brewing at that funny-shaped building between Spartan Stadium and Breslin. The Michigan State hockey team is set for a weekend-long duel with the Badgers of Wisconsin to determine who will sit atop the Big Ten as we approach the halfway point in the season.
As is tradition in college hockey, Wisconsin is in East Lansing for two showdowns Friday and Saturday night. Two wins for the Spartans will put them over the top, while a split will keep Wisconsin at No. 1 win over MSU.
But how did we get here? Simple answer: Adam Nightingale
A "from the ground up" rebuild is normally 3-4 years in any college program should everything go right, but here Michigan State hockey is trailblazing the Big Ten just 1.5 years into Coach Night's tenure. MSU has gone from a bottom-dweller to a .500 club to a league giant in the same relative time it takes to birth an elephant (I got that off Wikipedia).
As far as what is right in front of us, I would almost compare it to the Vegas Golden Knights of the NHL. No clear-cut leader way beyond the rest in terms of points, but a deep roster with everyone contributing. The top nine point-getters on the team are within six points of each other. At the same time, four of the top 10 in points in the Big Ten reside in East Lansing.
Now I know some emotionally damaged Spartans could say "We've seen second-year hype just next door and look how that's going?" and they would have every right to be cautious. As a retort, I ask to draw your attention to the recruiting scene. Coach Night and friends have managed to ink a projected top-five NHL pick, a No. 1 goalie prospect, and a plethora of USNDP boys. Young men coming from the National Development program pick Boston College, Wisconsin, and Michigan, but Michigan State? Where the football club fell behind on recruiting, MSU hockey is firing on all cylinders, inking a trio of dev team players in the last few months.
In conclusion, get hype, go see a hockey game, and buy a jersey, because a Big Ten title or national championship could find its way to an East Lansing bar before you know it.