Michigan State basketball: 3 quick thoughts from exhibition loss to Tennessee
Great learning experience.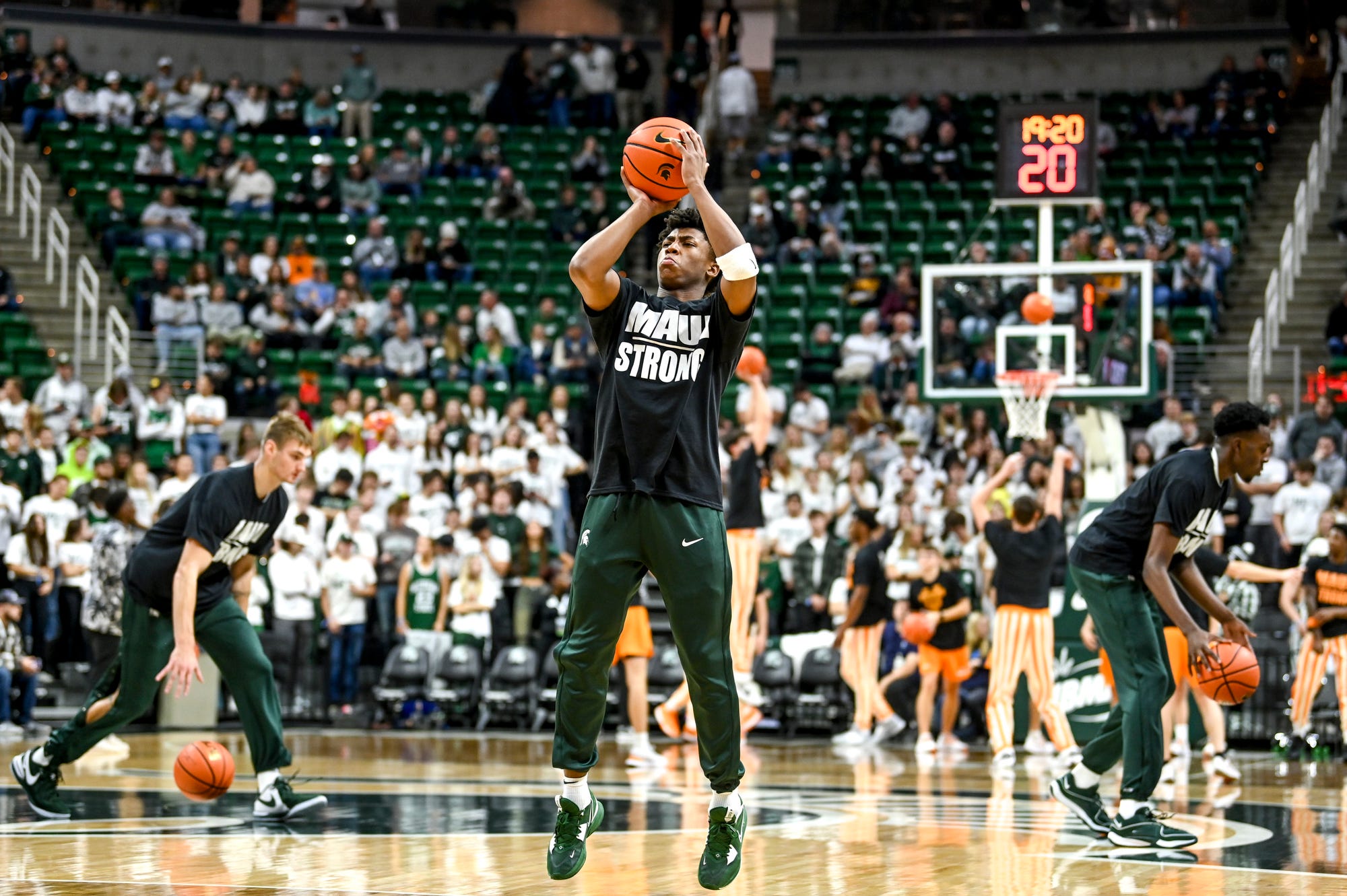 Michigan State basketball lost a tough one to Tennessee on Sunday in the exhibition finale. What'd we learn about this team?
Well, it didn't end quite the way Michigan State basketball fans would have wanted, but no one can be mad at a thrilling 89-88 exhibition loss to a top-10 team for charity.
Michigan State fell behind 17-1 early in the game and battled back. The Spartans never led throughout but tied things up with a few seconds left thanks to a clutch AJ Hoggard 3-pointer, but a foul on Tre Holloman (shouldn't have been called) with 1.9 seconds left was the difference.
Overall, the Spartans looked good after a shaky start.
Here are some of my quick thoughts from the loss.
1. Defense needs to clean things up
Offensively, I was impressed with the Spartans. They scored 88 points in regulation against a top-10 team, but they also gave up 89. It seemed like every time the Spartans made a big shot or an important play, Tennessee followed up with one of their own. They halted any momentum or major runs from Michigan State. The Spartans couldn't seem to defend without fouling in the second half and that was slightly concerning.
Tennessee shot over 50 percent from the floor (26-for-51) and 11-for-21 from 3-point range. They also shot an astounding 36 free throws. The defense needs to clean some things up because you won't win many games giving up this kind of offense.
2. Tyson Walker continues to be clutch
This game is going to go far this season if Tyson Walker plays like he did on Sunday night. He was making clutch shots down the stretch to keep Michigan State in the game. When Michigan State needed a big shot, Walker hit it. He finished with 22 points on 8-for-19 shooting and he was 4-for-8 from deep. Walker was that go-to scorer down the stretch and he looked like a legit All-American.
Walker didn't lose that clutch gene in the offseason.
3. Slow starts cannot become a trend
Last year, it felt like Michigan State basketball got off to a number of slow starts.
On Sunday, it happened again. The Spartans were down 17-1 in the blink of an eye and they had to scratch and claw their way back into the game. They never led because of that huge deficit against a top-10 team, but they were able to get back into the game. If that slow start never happened, the Spartans win this game and feel better. This was still a great learning experience and will undoubtedly make this team better, but let's hope that slow start was just due to some jitters in the first big-time action this season.
Good to get that out of the way now.