Michigan State football: ChopMan's perfect official visit photoshoot
What does the perfect photoshoot look like?
If Michigan State football had the perfect photoshoot, this is what ChopMan believes it would look like.
We are quickly approaching the biggest official visit weekend of the offseason for Michigan State football. Top targets such as five-star defensive lineman David Stone, and four-star receiver Nick Marsh will be on campus. This is the weekend executive director of player personnel & recruiting Mark Diethorn shows us what he's truly made of. The entire recruiting department earns their keep in the next couple of days and the expectation is that they leave a memorable impact on every visitor.
One of the best parts of the official visit weekend is the photoshoot where recruits suit up in the team's uniforms and pose with props/coaches. It feels like each year there is a common theme among throughout the country.
Last summer, we saw Michigan State, Oklahoma, Ole Miss, and others hold photoshoots in front of fancy cars. This year, the theme seems to be thrones. I've seen a throne at Oklahoma, Washington, and of course, Michigan State.
I think it is time to mix it up.
There are so many possibilities for the MSU creative team based on the culture Mel Tucker has built in East Lansing and honestly some of these ideas get me so excited that I'm surprised they haven't been implemented yet.
Here's the perfect MSU football photoshoot according to ChopMan:
Turnover Axe

Obviously the turnover chain was made popular by Miami a few years back and honestly the trend is pretty played out (although I loved UNLV's turnover slot) but I am completely shocked that we don't have a Turnover Axe yet. Huge miss, in my opinion, even if the bit is a little played out.

Cabin in the woods

Following along with the Turnover Axe. MSU Football needs to build a tiny, one-room log cabin in the woods. Baker Woodlot Bird Sanctuary and Sanford Natural Area come to mind when thinking about a potential venue.
Just imagine an awesome backdrop of a rustic and gritty log cabin. Recruit posing on the porch with an axe in hand while dressed in MSU's all-green or all-white uniforms.

Bears

Now this one I know is a little out there. Pretty unrealistic but man oh man would it top the goats we brought on the field in 2022. Each recruit poses with a bear next to them in the woodshed. Axe in hand. Kind of like Mike Tyson posing with a tiger. Would be electric and no one else in the country would be able to match that.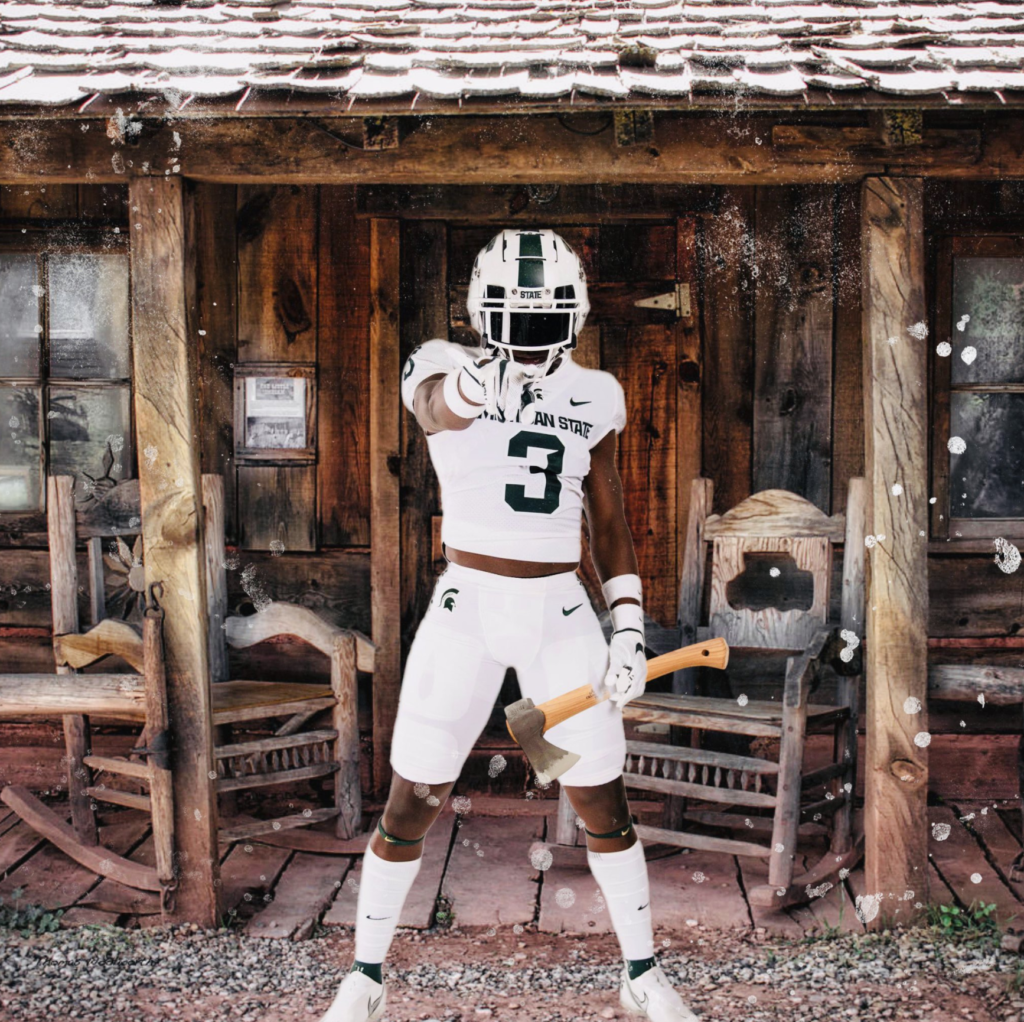 All in all, the main point of this post is that the MSU recruiting department has a ton of options to stand out by incorporating pieces of the program's culture. Keep Choppin', the Woodshed, etc. Someone get me on the creative team now. I would work for free.
Keep Choppin',
ChopMan