Why Jonathan Smith is the best possible coach for Michigan State football
Don't sleep on Jonathan Smith.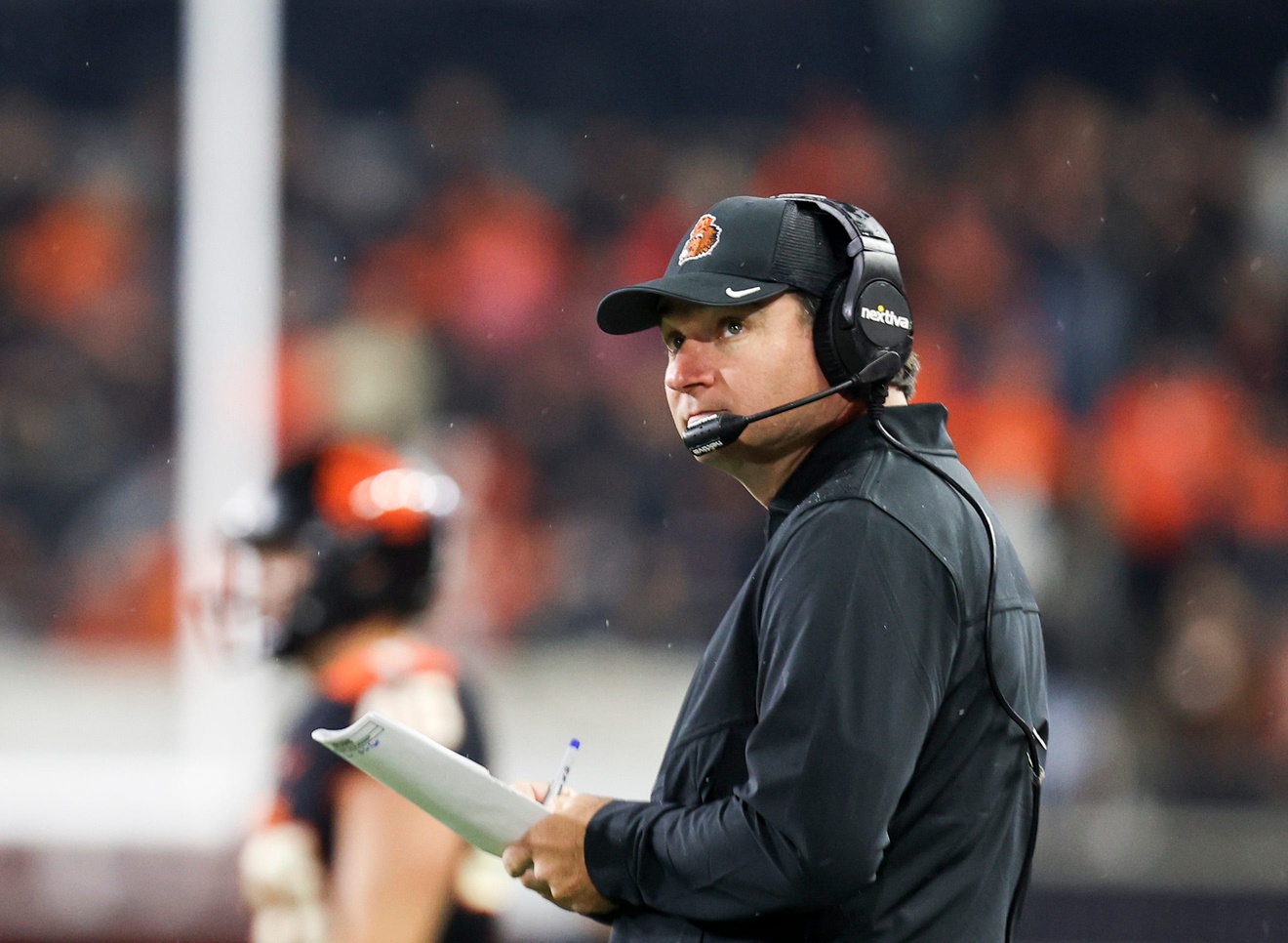 Oregon State head coach Jonathan Smith would be an absolute home-run hire for Michigan State football, and here's why.
With Urban Meyer rumors quieting down, let's talk about a more realistic top candidate for the Michigan State football head coaching job. Various names have floated around regarding the position — some better than others — but I think, all things considered, current Oregon State head coach Jonathan Smith is far and away the best option.
Let's break down a few reasons why.
Smith is a program builder
It's hard to overstate how much of a difference Jonathan Smith has made at Oregon State. To give you an idea of what he had to work with when he was hired in 2018, over the three seasons before his arrival, the Beavers had compiled a lowly 7-29 record.
Understandably, it's taken Smith some time to build things up, but the program couldn't look more different today.
OSU finished 10-3 with a bowl win in 2022, and has jumped out to a 6-1 record and No. 12 AP ranking this year. He took a program that was dead in the water and turned it into a top-15 team nationally. That's not easy to do. If the Spartans could poach Smith away from Oregon State, they'd get a coach who would bring long-term stability and continual improvement. That's something they desperately need.
Offensive mind
As a former quarterback, Jonathan Smith understands how an offense works. Accordingly, it seems like he's geared his gameplan towards putting up points, and it's undeniably working. For reference, Oregon State currently ranks 15th nationally in total offensive yards, ahead of teams like Oklahoma, Michigan, and Texas. Over the last four games, the Beavers have put up an average of 36 points.
That's pretty good.
Ever since the departure of award-winning running back Kenneth Walker, the Spartans have struggled heavily to put points on the board. Michigan State currently ranks 95th in yards per game, and the situation doesn't seem likely to improve anytime soon. The program just isn't going to win a lot of games with that kind of production. That's why bringing in an offensive-minded head coach like Smith would be such a game changer. If the Spartans can finally put at least a semblance of a reliable offense on the field, that's going to go a long, long way. When a team has a great offense, they're a threat in any given game.
That's the element Michigan State lacks right now — but it's what Smith does best.
Smith is a young coach
The problem with a lot of these potential MSU coaching candidates is their age. When you have a coach who's already 55 or 60, combined with a program that needs long-term guidance and stability, that's just not going to work out.  The Spartans need a coach on the younger side who can stick with the program and build it up over the next few years, and Smith once again fits the need perfectly. He's only 44 years old, and would give the program some peace of mind. That's seven years younger than Mel Tucker, for those of you keeping track.
Having a rising star coach at the helm for the foreseeable future would work wonders for this football program.
Final thoughts
Truth be told, there's been very little real information released about the Michigan State football coaching search. The university's athletic director, Alan Haller, has been keeping things mostly under wraps throughout the process so far, and that's probably a good thing. It's 100 percent possible that fans are dead wrong about guys the program is targeting, or we could be spot-on. None of us really have any idea.
That being said, though, I think current Oregon State head coach Jonathan Smith would be a perfect fit for the Michigan State job, and a home run hire.
Let's see what happens.